The Phone Losers of America have been assaulting the public with prank calls and posting them on our website since 1997. You can scroll through the Youtube playlist above to find some of the best material, or for more current pranks, listen to a few of our shows like The Snow Plow Show and World of Prank Calls.
On this page you will find your favorite pranks by the Phone Losers of America. Each section here contains just 3 prank calls, but includes links to many more prank calls with the same theme as that section, such as our Wal-Mart pranks, our complainer pranks and our Foursquare stalking pranks. Enjoy!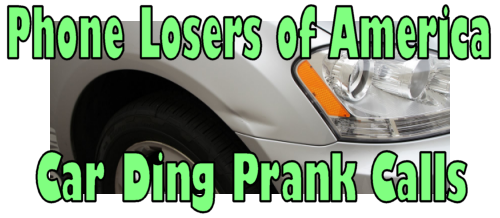 | | |
| --- | --- |
| | $100,000 Mercedes – This guy is very proud of his expensive car and loves telling me the exact cost of it. He's not happy when I tell him that he has to pay for the damages to my car since he has more money than me. |
| | Nancy Boy – This guy is nice until Roy starts being a jerk to him, then Roy's wife calls to tell him that Roy beat her because of the call, then Roy's lawyer calls to file a lawsuit about the whole thing. |
| | Zig Zag Lines – After telling Jessica that I keyed her car in a violent mood swing, I come clean and tell her I'm just kidding and it's just a prank call. She's more pissed about the prank than the keying. |
| | Click here to listen to more Car Ding Calls |

| | |
| --- | --- |
| | Carrot Top – This lady isn't very happy that Carrot Top wants her to leave her room at 3:30am so that he can have his favorite room, even when the front desk clerk offers to send Carrot Top up to help her pack. |
| | Jumping on the Beds – We tell this old lady to stop jumping on her bed but she insists that she wasn't. |
| | Entitled To Trash Bags – This guy calls the front desk and asks for some trash bags to be delivered to his room. We are using a police scanner to listen to the hotels frequencies and hear his request, so we call his room back. This guy thinks he's important enough to get us fired. |
| | Click here to listen to more hotel prank calls |

| | |
| --- | --- |
| | Christmas Bows – "Excuse me, I'm a customer!" "You haven't bought anything yet, you're not a customer!" (as heard on CNBC!) |
| | Meds Girl – It doesn't take much to set this girl off when she tries to call the pharmacy and reaches toys instead. |
| | Is The Baby Ugly? – Usually when I tell a customer that they have an ugly baby, they flip out on me. Not this lady, though. She either has an awesome sense of humor or is deathly afraid of confrontation. |
| | Click here to listen to more Wal-Mart prank calls |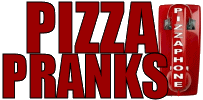 | | |
| --- | --- |
| | Kind of a Waste – This guy really puts Spessa in her place when she expresses a simple opinion. This guy probably thinks women shouldn't vote either. |
| | You're Too Old – An old lady calls in trying to order a pizza, not realizing that pizza is not an old person's food. She tries to trick us by telling us she's just 22. Then she tries to trick us by saying it's for her teenage son. |
| | We're Closed – This guy calls after we're closed, thinking he can still get a pizza. |
| | Click here to listen to more pizza prank calls |



| | |
| --- | --- |
| | Radiator Hose A man calls the auto parts store, apparently just to announce that he's coming in to buy something. |
| | Get Back in the Kitchen Okay I don't have anything against females. But do they really need to be calling up a business and pretending they know shit about cars? This lady calls about an alternator and I politely tell her to have her husband call in. She gets all pissy sounding and says it's for her car. How cute is that. |
| | Shut Your Kids Up If you're going to call up a business to get information, at least have the common sense to lock your damn kids in the closet for the duration of the phone call. I can't even hear this moron because his kids are yelling in the background. |
| | Click here to listen to more auto parts prank calls |



People love to complain, especially when it's to a giant audience on Twitter. They especially love to complain at company public relations Twitter accounts in hopes of having their issues resolved. We've started contacting these chronic complainers before the real companies can, posing as the company. Here are a few calls.
| | |
| --- | --- |
| | Connie's Lost Package Connie is upset that the post office lost her package, so the post office calls to tell her that if she doesn't take down her slanderous tweet. She actually takes down the tweet while I'm on the phone with her. About 40 minutes later, we call her back as a different person and tell her we found her missing package. The day after this call was made, Connie made her Twitter account private. |
| | Mallory Misses Her Flight Mallory thinks it's American Airlines' fault that she can't be on time, so we tell her husband that she's blacklisted from all future flights for being such a complainer. Her tweet read, "en route to san fran thanks to United & NO thanks to @AAirwaves DON'T FLY AMERICAN! stupid policies & terrible customer service." Legend later follows up with a call of his own to the husband. |
| | Phone Number Porting This guy tweets, "Sorry AT&T, your customer service sucks. I now have T-Mobile." so OhEmGee pretends to be AT&T and tries to work things out with him. Rob the Hyena calls back as her supervisor after he hangs up. And then RBCP calls back again as Rob's supervisor. |
| | Click here to listen to more complainer prank calls |

| | |
| --- | --- |
| | Toilet Problems – This lady is horrified to find out that RBCP has been flushing sand down his toilet. Just to give OhEmGee her credit – she came up with the idea of flushing sand down the toilet and leaving the water running to "get revenge" on the landlord. She's obviously a nightmare of a tenant in her apartment complex. |
| | Meth Lab Mold – RBCP suspects that his meth lab is causing the walls and ceiling to get mold. |
| | Stealing Copper For Rent – Staci tells the apartment manager that she's sold all the copper pipes in the apartment so she'd have money to pay her rent. |
| | Click here to listen to more apartment manager prank calls |

| | |
| --- | --- |
| | Red Cross Telemarketing – Shaggy gets a telemarketing call from the Red Cross while eating at Royal Thai Cuisine. |
| | Roy The Internet Stalker – Carlie is surprised to get a call from an internet stalker and decides on the phone not to use Foursquare anymore. |
| | Blockbuster Video – Blockbuster tells Sabrina that she's no longer welcome in their stores. She posted a series of tweets after this calls which went like this: "Just had the dumbest prank played on me thx to foursquare! Guy called Blockbuster, asked for me, told me he was from Corp. & that I wasn't…..welcome there, and how to leave the store!" |
| | Click here to listen to more Foursquare stalker prank calls |
If you've enjoyed these prank calls, you might also enjoy our prank calls to Curtis the Superhacker, our epic night of prank calling Dino on his cordless phone, and some of our other prank phone calls.
If you like our prank calls, please share them as much as possible. Feel free to use our calls in any of your own projects, podcasts, music, radio shows, etc. If you prefer prank calls without cursing, you can find calls like that on our page of radio safe prank calls.