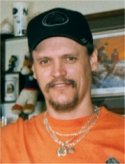 A few years ago we were introduced to the most awesome hacking force on the internet, otherwise known as Curtis Lee Jones. Curtis began his hacking career by joining Yahoo chatrooms under the hacker handle quiet_killer_187_h and using his extensive hacker knowledge of elite Yahoo hacking scripts to boot people out of chatrooms. It quickly escalated from there to harassing and stalking numerous females in Oregon chatrooms and shortly thereafter, real life stalking when Curtis traveled from Pennsylvania to Oregon to meet some of the people from the chatrooms. But that's a whole other subplot that we won't get into.
Below is our video/song ode to Curtis Lee Jones
The PLA got involved in the Curtis Lee Jones saga when we noticed the story of Curtis on a website called major-losers.com. Soon after that, we contacted some of the ladies in Oregon who were stalked by Curtis and managed to track down his home phone number. Curtis's life was never the same after that. Curtis and his wife didn't take kindly to being called at home and soon began fighting back by screaming in Yahoo chatrooms, making collect calls to RBCP's house, threatening calls to Heywood at
messedup.net
and numerous calls to Yahoo and our webhosts, attempting to shut down all of our accounts.
The adventures of Curtis Lee Jones seem to be completely over these days, but the memories live on. Below you can listen to Curtis' soothing voice let us know how much of an interweb hacking God he really is…