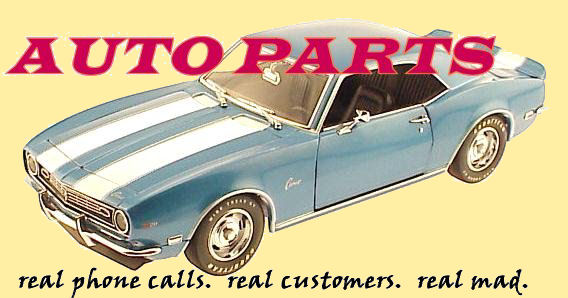 Hi. My name is Chuck and I work at an auto parts store in Southeast Kentucky. The job itself isn't so bad but the moronic customers always coming in and thinking they know shit really gets on my nerves. Especially the phone calls. So we started recording the phone calls just so we'd have something to laugh at on slow days. And now I present these phone calls to you. Click on the title of each phone call to listen to it in mp3 format. For those who sayI need to be fired – let's see you try working at an auto parts store for more than a month.

Radiator Hose – Why the hell would a guy call me while I'm trying to work just to let me know that he needs to come in and buy a radiator hose?? Just come to the store, people, no need to fucking announce yourselves.

Proper English – Here's a guy who thinks that just because I work at an auto store I'll be able to relate to him better if he talks down to me and uses expressions like "ya'll." I set him straight real quick and he hangs up on me. Maybe he'll show a little more respect to the employees at the next store he calls.

Get Back In The Kitchen – Okay I don't have anything against females. But do they really need to be calling up a business and pretending they know shit about cars? This lady calls about an alternator and I politely tell her to have her husband call in. She gets all pissy sounding and says it's for her car. How cute is that.

Shut Your Kids Up – If you're going to call up a business to get information, at least have the common sense to lock your damn kids in the closet for the duration of the phone call. I can't even hear this moron because his kids are yelling in the background.

Shut Your Kids Up #2 – Now the moron calls us back and actually tries to complain to the manager about us telling him to quieten the kids down. Guess he's just pissed off that he doesn't know how to control his kids. The chickenshit never did show up.
Up A Tree – Another idiot customer thinks he's going to get me in trouble with my manager. When he realizes that I'm not going to let him talk to the manager, he spouts off a bunch of gibberish to me and hangs up.

Chocolate Syrup – This guy needs a little automotive advice and we're sometimes willing to help people out when things aren't too busy.
Talk To The Manager – This guy wants to talk to the manager so he can try and get me in trouble. As if they would fire me, those fuckers need me there. Then the asshole tries to impress me that he owns a cellular phone.

What's Your Problem? – Another female thinking she has business trying to deal with auto parts. Gets an attitude with me for no reason at all.

Plug N Play – Here's a guy who doesn't seem to believe that an oxygen sensor is Plug N Play compatible. Don't you just love people who call in and think they know more than you?

No More Chevys – If it's not the customers calling in and annoying us, it's employees from the other stores. The store over on Highway 35 actually still carries Chevy parts (WTF???) and has the nerve to ask us if we have some Chevy parts they can use. They need to go to a junk yard for that kind of shit.

Brake Pads – Another guy calls up and thinks he knows more shit than we do about cars. If they think they know so much then why the hell don't they come and get a job here. This guy actually says, "I don't think you know what you're talking about."
89 Inch Bolt – Listen to this asshole, we try to make a little friendly conversation by asking him what he's working on and he gets mad and cops an attitude. Then he hangs up on us. You're welcome for the service, asswipe. Who needs customers like this?

Wheel Barrel – This guy is nice enough but what a fucking retard. He's already got a pickup truck but he wants to attach a wheel barrel to his truck to haul extra stuff in. Some people shouldn't be allowed to leave the house.

Can't Speak English – You call an auto parts store in Kentucky. It's in America. So why the hell wouldn't you ask your question in fucking English??? English or not, though, women shouldn't be calling up an auto parts store in the first place.

Window Motor – A lady calls in about a window motor for her husband's Firebird and I tell her what all it comes with. Her being a female, she sounds confused when I give her the details. But she finally agrees to come and pick it up.

Using The Bathroom – My co-worker was using the bathroom when this customer calls. He pretended to look for the guy's parts while he was actually taking a piss the whole time. The guy never had a clue.
Timing Belt – This call is a little confusing because there are about 3 different customers on the line at once. One customer doesn't believe that we're called Auto Hut and he tries to make a stupid joke. Another is asking if we have batteries (um, duh) and the other needs a timing belt.

5.0 – It's customers like this that really piss me off. This one calls me a fucking shmuck. He wouldn't be saying that shit to my face, that's why he has to call in on the phone.

My District Manager – I'm trying to help a customer with an alternater and my district manager gets on the extension and starts giving me shit. He should at least let me take care of the customers before he tries to discipline me. Fucknut thinks he knows everything just because he wears a suit.

Brake Light – We're out of water pumps so I do what I was trained to do – try to make a sale anyway. As usual, the asshole customer hangs up on me. And you wonder why I hate answering the phones at this place.

Not A Ma'am – One of the employees at our store is a little hard of hearing but that's no reason to insult the poor guy and then hang up on him.

On My Way Over – And yet another one tries to scare me by telling me he's on his way over. He shouldn't have warned us, I called a quick employee meeting and when he got here we took him out by the dumpster and fucked his world up. At least I think it was the right guy, we didn't give the bastard much time to talk.

Attitude Problem – While trying to help several customers at once on the phone (we do that to save ourselves time) some woman calls in and thinks that we should drop everything and help her.

Wiper Switch – We put up with a lot of bullshit at our job and we have to dish a lot of it back out at customers. But some days you just feel like being nice. Here's a call where I was helpful to a customer, no attitude from either of us.

Wrong Light Bulb – It's a routine thing at our store to mispackage items. We put cheap junk inside the expensive boxes and that way we turn a profit. It's no secret, it's just business. But at least we're honest with the customers if they confront us about it.

AA Batteries – This bitch flips out on us just because of a little miscommunication about the type of battery she's looking for. This is exactly why women should leave car part shopping to the men!

Power Steering Pump – This dude is obviously high on speed, he expects us to just drop what we're doing and go check on a price for him. Then he starts with the usual attitude that we always have to deal with here.

Are You Open? – This old man calls up asking stupid questions and then just rambles on and on about being sorry for asking. He may be sorry but there's just no excuse for dumb questions like this.

Lazy Customer – This guy thinks he can call up and start using bad language with us. Then he puts his wife on the phone to cuss at us even more.

Murd0c has Snapped – He just can't take it anymore, dealing with stupid customers day after day. Murd0c finally snaps and the customer threatens his life.

Email Address – Okay get this…this guy doesn't even have an email address. How the hell is Heywood supposed to look up a part for this guy if he doesn't have email?? Sheesh.

No Flat Belts – This guy is a little behind the times, he thinks that people still use flat belts for alternaters. Get with it, people!

Spark Plug – These people try and sell me a spark plug. Like we do trade-ins on them or something. My manager eventually has to get on the phone and straighten things out.
V Belt – We don't exactly have what this guy is looking for but I'm more than happy to try and accomidate him. Unfortunately the sound quality on this clip isn't too good.

Open Til Midnight – This girl calls to see how late we're open and refuses to believe what I tell her. Then she tries to trick me by having a guy call me back and ask the same question. Of course I don't fall for such a trick.