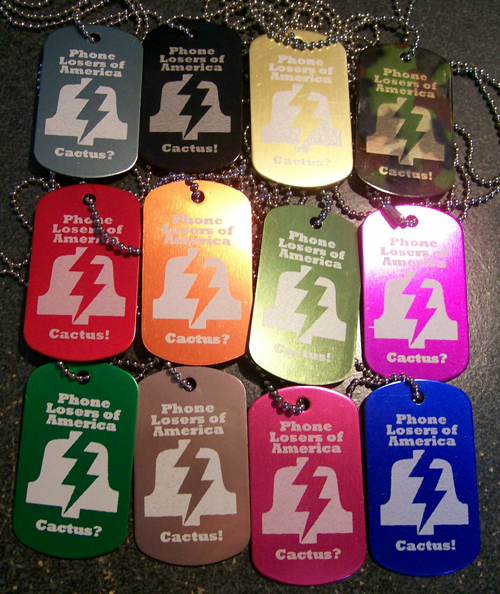 Aren't they beautiful? Don't you want one more than you've ever wanted anything in your life? I've been wanting to have PLA keychains made for a long time, but never could find anything I really liked for a reasonable price. I'm really happy with these laser-etched dogtags, though, that are the perfect size for sticking on a ring of keys. Both sides have the "Phone Losers of America" with the PLA bell logo etched on it, with "Cactus?" on one side and "Cactus!" on the other.
Right now they're $6.00 each, which includes shipping. When I get around to adding them to the PLA store, I'll probably make them $7.00 just to punish those who weren't fast enough about taking advantage of this amazing offer. Screw you, people who don't watch this page every day! Use the form below to get your own.
Each dogtag includes a 24″ chain, perfect for wearing around your neck during Defcon this summer. If you hate the idea of contributing to my crack rock habit, or if you'd like to personalize your PLA keychain with your name instead of "Cactus?" then visit our supplier, this PLA logo on their ordering page.
As long as I'm making a post here, I'm going to throw in a sound file to either annoy podcast subscribers or make them happy. It's a weird phone song that you should all enjoy about a neurotic man who falls in love with a 411 telephone operator and spends the rest of his life calling 411, hoping to talk to her again. You can learn more about this song on my music page.
Your friend,
RBCP