Who's Going To Defcon This Summer?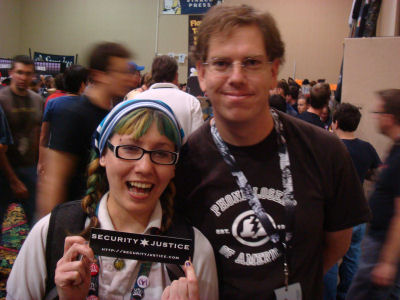 Any of you Phone Loser types going to Defcon this summer? Quite a few of us PLA people are planning to make it, such as RBCP, afreak, DBK, RogueClown, Jenn, blu3b0y, CountyKid, el_jefe, Jammie, ApprenticePhreak, io, Rappy McRapperson, Laugh Track Matt, OhEmGee, lmnk, Evie and Drolley. This year's PLA group photo should be a lot bigger than just RBCP and Drolley. In fact, this might be the biggest PLA gathering ever. Defcon 19 will be at the Rio Hotel in Las Vegas, from August 4th to August 7th. Admission is an outrageous $150 per person, so bring lots of badge counterfeiting supplies with you.
Visit PLA's Defcon planning thread on the PLA forums to make plans with us.