PLA Radio Episode #21 – Black Friday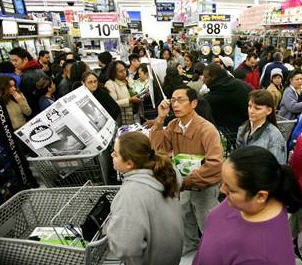 This episode covers the fine art of picking up store phones while you're in a Wal-Mart so you can talk to customers who are calling in. The calls in this episode took place on Black Friday, when it was entirely too busy for employees to notice RBCP talking on the phones.
00:00 Texting your way to love
00:32 Intro by Trevelyn
01:31 Click here for our planning page.
02:02 New UPL issue
02:20 I Shop At Walmart – by CacaMan
04:00 Answering calls
08:50 We Go To Wal-Mart Every Day – Katie and Alyssa
09:30 Olympus Telephone Recorder
10:04 More calls
17:07 Take it Back – Steve Goodie
21:00 www.phonelosers.org/wal-mart
26:19 I Shop At Walmart – by CacaMan
30:31 Bonus material – RBCP getting busted by a Wal-Mart employee
Something I forgot to mention in this episode is that it's easy to locate Wal-Mart store phones by looking at the support poles up near the ceiling. Poles that have phones on them are wrapped with blue tape. Poles that have fire extinguishers on them are wrapped with red tape. And to get on the all-store page, you need to dial #96.
There's a whole page on having fun with store phones located at www.phonelosers.org/article/storephones/. It covers fun things to do in stores and things to dial on all kinds of different store phones. And then there's our Wal-Mart page, which has even more answered calls and other Wal-Marty funness.
I made a video version of this episode a few days after it was released. As of this writing, it's been watched 10,000 times on YouTube and over 105,000 times on Ebaums. It's also been linked from dozens of blogs and forums. Not bad for just a week. Thanks again, Black Friday shoppers!
If you've ended up here from the video, be sure to listen to the podcast too since it's got more calls, longer calls, and explains things slightly better than on the video.