PLA wants to see YOU in D.C.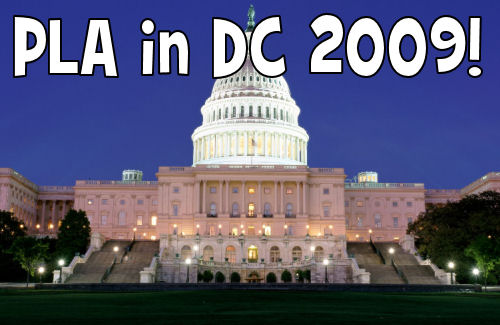 On February 6th, 2009, members from the PLA Forums will be converging on the Wardman Park Marriott in Washington D.C. to plan, scheme, impersonate, attack, pillage, impregnate, terrorize, etc. Incidentally, this is the very same hotel that Shmoocon will be held at on the very same weekend.
Attendees will include, but are not limited to, RTF, Trevelyn, Rogue Clown and RBCP. I'm trying to harass altalp and murd0c into attending, but they're not caving in quite yet. murd0c is just afraid I'll get him kicked out of the hotel and nearly arrested again like I did at Phreaknic. Some people can just never let go of a grudge. handl3r claims him and some others will be sneaking across the Canadian border to attend. And Sidepocket says he'll probably make it too.
Everyone reading this should immediately call up their favorite airline and book tickets to D.C. to hang out with us all. It'll be fun. It's hard to get tickets to Shmoocon, but who cares. You can still go to room parties and other parts of the hotels without Shmoocon badges. We'll all do plenty of stuff outside of Shmoocon too, so it'd still be worth taking a weekend vacation just to hang out with all your favorite PLA people.
If you want to discuss this event, here's our official planning thread on the forums. The PLA/UPL Twitter will be updated throughout the weekend with the whereabouts of the PLA group. And if you haven't noticed yet, I stuck a countdown timer over there in the left sidebar to make you feel bad about the impending con that you won't be attending because you have to act all responsible and pay your rent instead of visiting us.
See you there!