Own A Piece of PLA Memorabilia
Here's yet another post to tell you to watch PLA's YouTube videos. These two videos might interest you if you've been into the PLA for a long time. Since I only have 8 months to live, I'm trying to give away tons of old PLA junk and photos. The first video contains the junk and the 2nd one contains the photos. Unfortunately a lot from the first video has already been taken, but most of the printed pages of stuff is still available.
Also on PLA's YouTube are 3 more episodes of Sorry I Dinged Your Car and a Geek Squad prank, which are all embedded below. Apparently Geek Squad employees have been alerted to the video where we impersonate them because over 200 hits are coming from geeksquadcentral.com, which appears to be for employees only. If any viewers have access to those forums, please send us some screen shots so we can find out whether they're LOLing or plotting their revenge.
Wal-Mart doesn't seem too happy with our photo pranks, according to the memo below. This was spotted by a Wal-Mart employee who follows us on Facebook and was nice enough to snap a picture for us. The memo has done little good, though, because photo employees still give us anything that we ask for.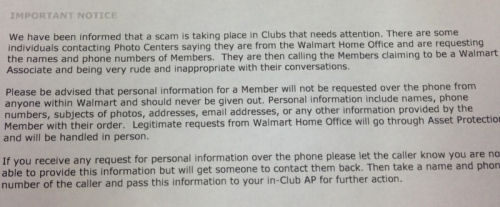 Attached to this post is the latest episode of The Phone Show, where you'll find out what the word is if you listen long enough. You can click here to read the show notes. Don't forget to listen to us live, every Tuesday night at 9pm Pacific / 12am Eastern.