Tons of New YouTube Videos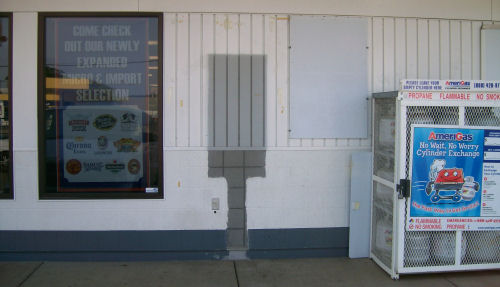 Isn't that an amazing picture of the outline of a removed pay phone? I took that last year at a gas station, just outside of Corvallis, Oregon. Before they removed the empty pay phone stand, they were hanging advertising banners over the front of it. Did you know it costs around $700 a year to maintain a pay phone, even when that pay phone is only making a couple bucks a month? These are the kind of useful facts you learn by listening to The Phone Show every Tuesday night at 9pm Pacific.
Have you people been to the PLA YouTube page lately? I've been spending way too much time on there lately and I've uploaded a lot of videos recently, of new PLA material that you can't find anywhere else. Below I'm going to post a bunch of videos that I don't think I've posted on phonelosers.org yet. You are hereby required to watch every single one of them.
Have you watched them all? Good job! You're not done yet, though. You still need to watch my video where I fail at hacking a cell phone and then videos of me opening mail from El Gordo Uno and opening mail from Laugh Track Matt.
Oh, so you like videos of people opening mail? That's great, because lately PLA people have been on a rampage of sending each other random mail and then filming themselves opening boxes full of bizarre stuff. Here's a video of Trevor opening mail from me, then opening mail from DS, then Laugh Track Matt, and then Tristan.
this thread on the PLA Forums and watch our giant collection of PLA unboxing videos.
Just as I did on the last phonelosers.org post, I'm attaching a recent episode of The Phone Show to this post for the podcast subscribers. I don't have any plans to do any new episodes of PLA Radio, but I'm sure one will happen eventually. The Phone Show happens every week and there's a separate podcast feed for that, plus all the YouTube videos are kind of in the old PLA Radio format of just being different collections of prank calls SO QUIT COMPLAINING! Oh yeah, nobody was complaining.