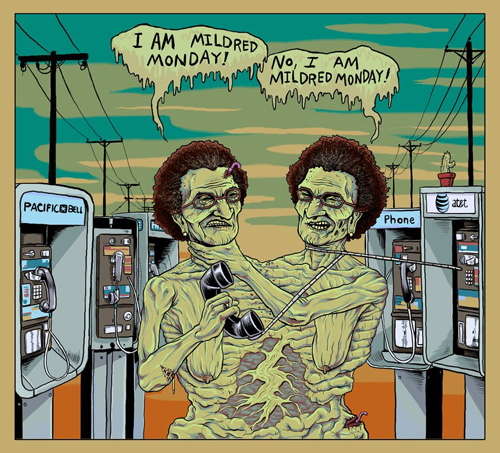 I received this amazing picture in my email today, along with a message reading, "Greetings RBCP. Been lurking your site for a few years. Wanted to say thanks for the entertainment and information; so I drew you a picture of naked, siamese twin, zombie Mildred Mondays trying to kill each other. Keep up the good work." The artist's name is Alex Cooper and you can visit his DevArt page here to see the full-sized image and his other awesome illustrations. Thanks, Alex! This has made my day and I'm sure other fans of Mildred will love it too.
If you don't know who Mildred Monday is, then you don't spend nearly enough time on this website. Here is our memorial to her, which includes clothed pictures of Mildred and songs that praise her awesomeness.
And speaking of PLA art…I recently added about 100 images to the PLA Photo Album. Because I'm so lazy, I got rid of that dumb Coppermine photo album software we've been using for years and just sorted everything into directories. There's a lot of good stuff in there, a lot of it that I've never put on the net before. Go enjoy it!
And holy shit, Alex, thanks again!