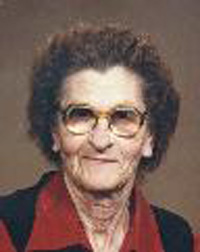 Mildred L. Monday
July 29th, 1921 – February 17th, 2010
Mildred first came into the lives of the PLA two years before the PLA was even around. In 1992, RBCP picked her at random from a phone book and made a call to her from a pay phone in a movie theater, using a red box to avoid the long distance charges. RBCP pretended that he was an AT&T operator and that Mildred was making a call from a pay phone as Mildred insisted that she was Mildred Monday.
Mildred was pranked once or twice per year for the rest of the 1990's and always loved to proclaim that she was Mildred Monday, whether we were offering to reshingle her house, give her new siding or charge long distance calls to her. Her threats of shooting us in the hind end with a shot gun always seemed good natured and we imagine that the occasional prank calls gave Mildred something interesting to talk about with her friends and family. We're certain that her sons would disagree, though.
In 2008, after not calling Mildred Monday for about 10 years, RBCP recorded a song about Mildred and called her to play it for her, but she refused to listen to it since she was on her way out the door. We found out about Mildred's death about seven months after it happened and dedicated an entire Phone Show to her memory on 9/14/2010.
Below you'll be able to listen to songs about Mildred Monday and the prank calls from the 1990s to her. You can the original PLA announcement about our loss of Mildred. You'll be missed, Mildred Monday!
| | |
| --- | --- |
| | Mildred Monday – a song by RBCP: This song was written by episode #16 of PLA Radio on March 15th, 2008. It features some classic old-school PLA characters, such as Dino Allsman, Jim Bayless and Mildred Monday. It's a parody of a 1980′s song called Manic Monday by The Bangles. |
| | Monday – a song by gnnr: This is a tribute song by gnnr, written shortly after we learned about Mildred's death. It's a parody of the 1960's song Yesterday by The Beatles. |
| | I am Mildred Monday: The original Mildred call from 1992 – Mildred gets a call from someone who claims to be her, trying to bill a phone call to New Zealand. |
| | Mildred didn't put a call through: This is another call where RBCP tries to get Mildred's permission to put through a long distant call. |
| | Mildred Doesn't Party: Weird Harold tries to invite Mildred to a party. |
| | I'm Mildred Monday Too: Shelly tries to convince Mildred that she's Mildred Monday too. |
| | You're Crazy: Zak tells Mildred that AT&T is really really pissed at her and she calls him crazy. |
| | Mildred's Roof: Bill from Pioneer Roofing calls to confirm an appointment with Mildred for her new roof and she threatens him with a shotgun. This call is taken from the PLA TV episode called Prank Calls with RBCP |
| | Mildred's Siding – Part 1: Mildred doesn't want no siding on her house. |
| | Mildred's Siding – Part 2: Gary calls back, insisting that Mildred lets him put pastel black siding on her house. |
| | Mildred's Siding – Part 3: Sylvia, a crossing guard at the local elementary school, tries to reason with Mildred about her siding. |