PLA Radio #15 – Cordless Phones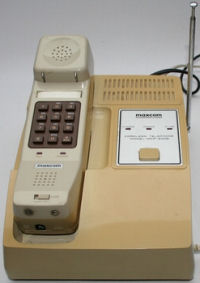 This episode takes a look at cordless phone monitoring and shows you a little of the fun you missed out on in the 1990's by eavesdropping on cordless phone users and interfering with their lives. Listen to Legend's harassment of a cordless phone user in Florida, then hear the results of a few pranks in the mid-90's. This show is nearly 24 minutes long and the full version is around 22 megs.
Listen to the show (128 kbps / 22 megs)
Listen to the show in mono (64 kbps / 11 megs)
Listen to the show (32 kbps / 6 megs)
Show Notes:
00:00: My BFF Rose
00:23: Intro song by Trevelyn (visit his website or his Myspace for more music)
01:09: Hi PLAers
03:11: Legend's 1999 cordless phone pranks with Missy and Dena – Listen to the full phone calls on YouTube (Part 1, Part 2, Part 3) – Also, visit Legend's YouTube page, his Dailymotion page, his Myspace page, and his Megavideo page.
11:02: Voicemails – call 505-796-4020 to leave your own
14:20: Messing with my neighbors in Ohio
15:25: Old man's jacket
18:00: The Dino Allsman story – Visit the official Dino Allsman page.
21:50: Bye – for more cordless phone stuff, click here.