Taco Bell Pranks by Sharolaid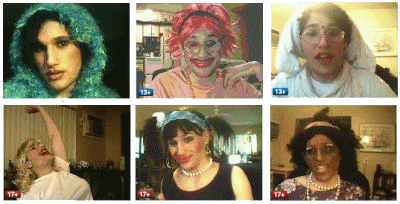 Recently while doing a search for prank calls on Google's blog search, I came across a strange video of a guy dressed up in drag and prank calling a Taco Bell. While he mostly just screamed at the Taco Bell employee, it was still a pretty amusing call. It was from a site called revver.com which I wasn't familiar with. So I went back to their main page and did a site search for "Taco Bell prank" and…holy crap… The person that did the call had HUNDREDS of video prank calls while dressed in various forms of drag.
After watching about a dozen videos of this guy, I've decided to share them with you. Check out his videos by going to this URL:
http://www.revver.com/account/show/bwf51485/
After you've had your fill of hundreds of prank phone calls there (1,095 videos this person has up), take a look at his Myspace and his Stickam. He's even got a domain at sharolaid.com but it only links to his video prank calls.
As a new fan of Sharolaid's, I'm not sure WHY he dresses in drag and makes prank phone calls, since it's not clearly spelled out for me on any of his pages. I guess I need to start watching his show on Stickam to get it. All I know is that the phone calls are pretty damn amusing and everyone should listen to at least a few of them.
sharolaid.com