Stewart Winslow, reporting for duty!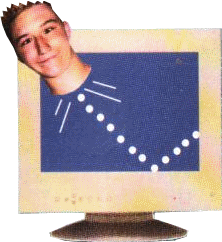 In 1996 I was looking in the Comedy section at Sam Goody (heh, remember those places?) and happened across a cassette tape by a prank call artist known as Telephone Head. I'd never heard of Telephone Head before (Not to be confused with The Phone Heads prank call tapes!) so I immediately plopped down ten bucks for it. The label on it was D.I.L.L.I.G.A.F. Records, the same label that gave us The 976-Girls and The Ball Busters.
I'm not gonna say it's the most hilarious collection of prank calls I ever heard, but they were mildly amusing. A few calls were kind of pointless, such as the one were he just calls up a guy and asks "How's it going?" about a dozen times. But the best calls were definitely the Stewart Winslow calls. Stewart was a computer geek who got thrown in the garbage can at school a lot and was always in search of the best computer data processing center around. He also loved to tell everyone about his big penis. Take a listen to these Stewart Winslow clips:
| | |
| --- | --- |
| | Stewart Buys A Computer In this first clip, Stewart asks an old man questions about a computer he wants to buy. |
| | Teen Crisis Hotline In this next one, Stewart calls up the crisis hotline to try and get help with his problems, such as all the other kids calling him keyboard teeth. |
| | Stewart Buys A Car Finally, Stewart needs to buy a car that includes a computer data processing center in it. |
A did a little searching around Google tonight, seeing if there might be a tribute page to Telephone Head, and I found a Telephone Head Myspace! It's located at http://www.myspace.com/telephonehead. On their Myspace you can learn a little about the history behind the guy that made these prank calls and you can listen to the rest of the calls from his CD, which is good since I'm too lazy to create a torrent for them. And if you really love the calls, you can even buy the CD or tape from Amazon.com.
Thanks for creating the Stewart Winslow character, Telephone Head guy! He's brought me moderate chuckles for over a decade now. Hopefully you visitors will think he's as mediocre as I do.