PLA Shirts Now In Pretty Colors
If you've been dying to get a PLA t-shirt, but black and grey just wasn't colorful enough for you, then today's your lucky day! A very limited supply of the new PLA t-shirts are now available in dark green, dark orange, brown and white. Sorry, the pink is already sold out!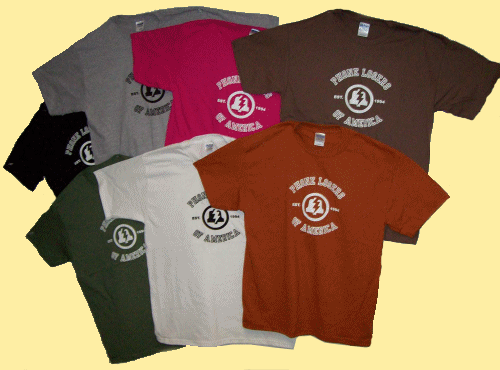 I only ordered 2 of each of these different colors – 1 in Large and the other in X-Large. Also available, but not in the picture, are 2 large shirts in the color maroon. If you must have these shirts immediately, then PayPal $19 to rbcp AT phonelosers.org. Or visit the PLA Store if you'd like to order a black or grey shirt.
Also, you should visit PLA's page of photos to see your favorite celebrity superstars wearing PLA shirts! Once you've ordered a shirt, send in a picture of yourself wearing it and, chances are, it'll end up on that page.

Thanks for your support! Without the proceeds from these t-shirts, RBCP wouldn't be snorting nearly as much cocaine!