Another Year, Another Rubicon…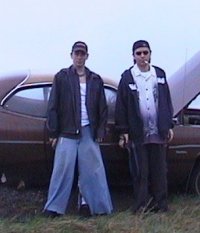 Old And Busted Is0tek and GreenGod stand in front of RijilV's broken down car on I-55.
It's Sunday night and I'm back from yet another felony-filled weekend at Rubicon. It was a fun time and we hope it happens again next year. If you missed it, you can click here to look at some pictures, listen to a few sound files and read some stories. You can probably find even more of all that by going to the official Rubicon site or the unoffcial Rubicon site.
CNN was there and did a very good story on hackers. You can listen to the audio of the segment here.