Huge Blowout Sale on PLA Merchandise! WOW!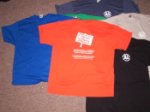 Are you the only guy on your street without a PLA T-shirt? Now's your chance to get a PLA T-shirt for HALF PRICE!@#(&%#@# Have we lost our minds?? Are we CRAZY??? Our prices are just INSANE!!! We're liquidating our entire inventory! We don't know what that means but it sure sounds good on those mattress commercials.
We've dropped the prices on our T-shirts to $10.00 each and the prices on our 6.55 MHz crystals to $1.00 each. (After the crystals are gone we won't be ordering anymore.) The shirts are still available in different colors like Blue, Tan, Navy, Burgundy, Orange, Red and Green. But NO BLACK, you have enough black shirts already! Visit our merchandise page to take advantage of our low, low prices. You can also click here to find out about PLA's first DVD.