The 5th Rubicon is just a few short months away…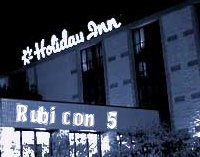 Once again, it's the time of year when you need to drop everything you're doing and start making plans to attend Rubicon 5 in Detroit, MI. This year it will be held at the Holiday Inn from March 28th through March 30th, 2003. Tickets are an outrageous $50 per head but if you donate 2 dozen canned goods to the staff they'll give you a 75% discount. This also works for a 32% discount on the cost of your hotel room so be sure to bring 4 dozen cans of food for each person that's attending with you.
Besides the official Rubicon site there is also the unoffcial Rubicon site which has a lot of good information. You can view the PLA Crew's past few years of pictures here. That page will soon contain some preparation info for the upcoming Rubicon. Once again, Microsoft founder Steve Wozniak will not be giving the keynote and neither will Defcon's Dark Tangent. We also have information from a very good source who is quite sure that LOD's Erik Bloodaxe will not be giving the keynote either. Keep watching Rubicon's website for updates.