Free Calls on Cell Phone Displays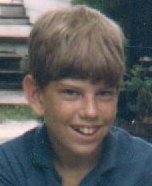 A few weeks ago I was in Office Max for one reason or another. I ended up at the counter where they display PDAs and cell phones. I came across the Samsung palm/phone and I ended up playing around with it's Palm features for while, comparing it to my own Kyocera palm/phone, which isn't quite as nice as the new Samsung.
As I was setting the phone back down to go play with the other items, I was surprised to see a sign under the phone encouraging customers to make phone calls on it so they could see what a nice phone it was. So I stood there for 45 minutes, calling random numbers all over the country for free. I called the PLA Voice Bridge, Curtis Lee Jones, a few friends, and a few enemies. Then I called my own cell phone so I could get the phone number to the display phone.
A few minutes later, I was sitting in an office display chair behind an office display desk, pestering all the customers who walked by the cell phones with my phone calls to the Samsung phone. I had a clear view of the display counter so I could yell at them for answering a store phone, make fun of their clothing or pretend to be a sales rep. trying to sell them a the phone. I convinced a few people to hand the phone to other people in the store. "Yes, my uncle should be there looking at cameras and he's wearing a blue shirt and a white hat. Just hand him the phone. Thanks."
Hours later when I was at home, people playing with the display phone starting calling ME on my cell phone since I never bothered blocking my caller ID. I recognized the number when they called and went into an automated sales pitch. "Press 1 if you'd like me to tell you about some of the kickass features on this bitch." One person fell for it and I took him through a maze of automated options until I ran out of things to say and admitted that I was just screwing with him.
There were a few things that I didn't even think to try with the phone while I was at the store. It had Sprint PCS service on it, which means that the phone most likely had call forwarding on it since that's an included feature when you sign up. I could have forwarded the cell phone's calls to the PLA Voice Bridge so I'd have my own local dialup to the bridge. And I doubt anyone at the store would ever even notice that. I'm definitely going to go back later this week and try that out. And I'll keep you all posted on the new midwest dial-in number for the bridge.