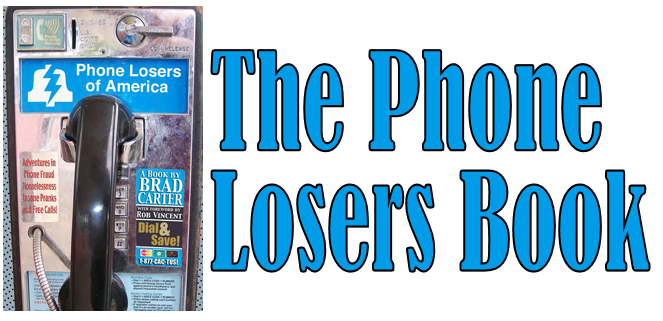 This is the page for the PLA audiobook. Each chapter will be read by a different person, many of them somehow related to the PLA. Anyone can read a chapter, though. If you'd like to read one, then do it and send it to rbcp@phonelosers.org and it will probably end up on this page. I will allow people to submit chapters that have already been read so that listeners can choose who they want to hear, but for now it's probably best to pick a chapter that hasn't been done yet, just so we can have a full audiobook.
Once all the chapters are complete, I'll paste them all together to form a free audiobook for everyone to download. I might even get it listed on Amazon.com. Or maybe release a few chapters at a time on PLA Radio. For more information about the PLA Audiobook project, here's a thread in our forums.
Here is a list of chapters that are still available to read. If you don't own a PLA book, this go buy one. Or maybe try and read the chapter you want to do for free using Amazon's "view it now" feature.
Chapter 01 – Leaving – Read by Brad Carter – A couple of phreaks on a routine trashing run at the phone company central office run into trouble that will change their lives forever.
Chapter 02 – Dino and his Cordless Phone – Read by Nick Walters – The classic story of a man using his cordless phone. Zak and RBCP spend a single night harassing Dino and listening to his reactions over a police scanner as he calls his wife and other people to tell them what's happening. (Thanks for reading this one, Nick!)
Chapter 03 – Fun With Call Forwarding – Read by tabachi – This chapter details many of the crazy things a person can do with the phone company's call forwarding features. Read about the confusion caused at the phone company by forwarding calls, practical jokes we've played and our bizarre call forwarding experiments. (Thanks for reading this one, tabachi!)
Chapter 04 – The Fred Meyer Incident – Read by Rappy McRapperson – Years ago it was possible to call into any Fred Meyer store in the country and take over the overhead paging system remotely. Once you were connected, you could stay on as long as you wanted to, saying whatever came to your mind for all the shoppers and employees to hear. (Thanks for reading this one, Rappy!)
Chapter 04 – The Fred Meyer Incident – Read by tabachi – Here's another reading of this chapter by tabachi
Chapter 12 – Red Boxing – Read by OhEmGee – RBCP learns about red boxing and stealing money from AT&T. (Thanks for reading this one, OhEmGee!)
Chapter 13 – Revenge – Read by NDS711 – A few simple acts of revenge turn into a full-time job for RBCP and Zak. Read about the victim who endures daily torture for years. (Thanks for reading this one, NDS711!)
Chapter 18 – Cactus – Read by Evie – Cactus is cactus during cactusing of cacti as long as cactusy cactuses are cactus. (Thanks for reading this one, Evie!)