Snow Plow Morning Show for June 26th, 2013 – Selling Things To The Chinese Government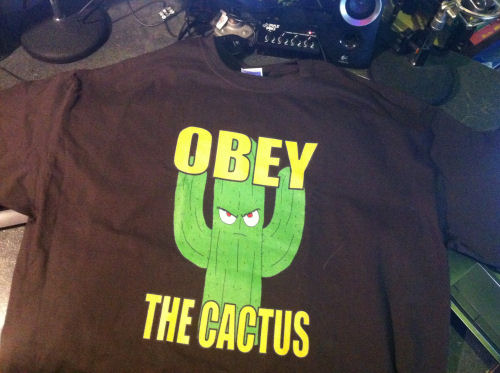 Did you know you can have your very own Obey The Cactus t-shirt? Click on the shirt above to get one.
This episode is brought to you by bootzilla.org!


All music in this episode is by Kabuto The Python, which was requested by Naz.

Once again, thanks to everyone for the donations! Perth and Naz are new donators. Thanks. Thanks. THANKS.

There's an amazing new search engine called Bing! Here is the link to the social search – by the way, I did the "call my cell" search later and it DID find regular people and not just businesses. Most of them are businesses, though. I'm not sure why.

BREAKING NEWS: The SWATTERS that the police can't find will probably never be fined $2,000 per call.

BREAKING NEWS: Michael Jackson used to make prank calls to Russell Crow

EVEN MORE BREAKING NEWS: Hacker Scrapes Thousand of Public Phone Numbers Using Facebook Graph Search

Yes, I said TWO songs were the first Kabuto The Python songs I'd ever heard. The second time I meant it was the first Schaffer The Darklord song I'd ever heard, which happens to feature Kabuto.

Thanks, TheN, for all the Facebook numbers at the end! Visit his website at afterthetone.org

Once again, this episode is sponsored by bootzilla.org. GO THERE.

TELEPHONE FALLS should be out within a week. Let's hope.