The Preshow for March 9th, 2013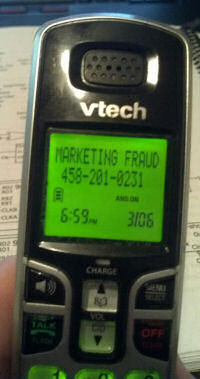 Isn't it about time I release another preshow? This one happened a couple of weeks ago, right before the Madhouse Live show that never happened. This show features amazing bits of audio such as Eminem making horribly unfunny prank calls, Falco making songs that aren't Rock Me Amadeus, and RBCP puking on customers pizzas. Honestly, this show isn't the greatest – most of it is attempted Foursquare stalking, which just means there's a lot of waiting for people to be paged. Hopefully when I edited this, I remembered to remove as much of that as possible.
Thanks, Darkstranger, for the "marketing fraud" picture that she found on Imgur and showed to me!
You might notice giant, ugly graphics for Tunein and iTunes over there on the left sidebar. Hornyelf was complaining at me today for not having a feed on Tunein, so I showed him the link to our Tunein page and I began a 20-minute long verbal beatdown on Hornyelf for not being able to find it. To save myself precious time on verbal beatdowns in the future, I've put these links in the sidebar to make them easier to find. I've also applied to Stitcher, so hopefully that one will be added soon. (We were on Stitcher on Cacti Radio, but never on this site.) What other music feed services would you like to see us on? Let me know in the comments and I'll see about adding them.
Oh, and one last thing…WHY THE HELL DOES PLA ONLY HAVE TWELVE FOLLOWERS ON TUMBLR??? I know the Tumblr hasn't existed for very long and I haven't put much effort into letting people know it exists, but you people should just magically find this stuff on your own and add yourselves to it. Goddammit. GODDAMMIT! So go add yourselves to our Tumblr so you can see the exact same stuff that's posted on YouTube and Facebook and Twitter and everywhere else. Because you NEED to be reminded of new PLA content a dozen times each time it happens, right?
ADD US ON TUMBLR DAMMIT!
Oh, and there's just one more thing…(that was my Steve Jobs impression)…I set up a PLA forums, except that people actually use Facebook so there's more activity on them. facebook.com/groups/goawaypla
Podcast: Play in new window | Download
Subscribe: Google Podcasts | Email | RSS