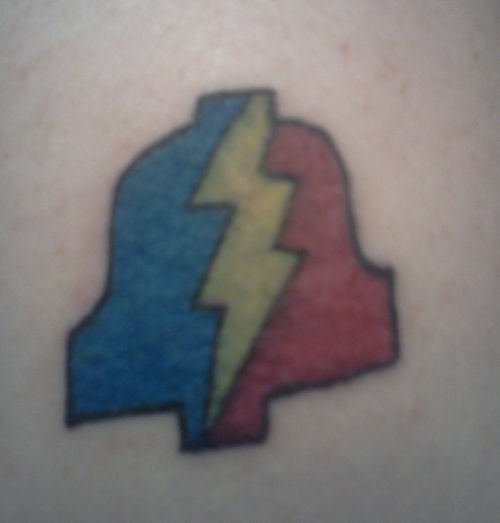 Earlier this week, Trevor became the first person on Earth to declare "PLA 4 LYFE!" by having a PLA bell logo tattooed on his butt his arm. Those of you who hang out on PLA's Tinychat often enough have probably run across Trevor, also known as rasterdragon, from time to time. Trevor often runs PLA Movie Night whenever RBCP is too strung-out to do it himself.
Trevor will undoubtedly be cursing PLA's name 10 years from now as he's paying exorbitant amounts of money to have PLA's logo lasered off his arm. If he's smart about it, he will sue RBCP for corrupting his mind enough to let this instant of bad decision making happen. If you'd like to learn more about someone who would desecrate their body with our ridiculousness, visit Trevor on Facebook, then look at more tattoo pictures on his tumblr and be confused about his .info page. Trevor also runs his own Rappy McRapperson page to confuse people trying to find the real one.
AND NOW A WORD FROM OUR SPONSOR...
| | |
| --- | --- |
| | If my answering machine offends you, call my answering service and leave a message on my voicemail. It also hates my machine and will understand. |