TAS1000 – Music made from some lady's answering machine tape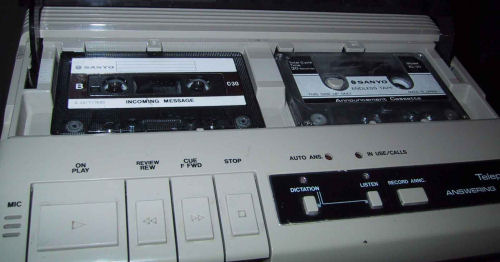 Today a guy on YouTube named idiotcomic told me about a band from the early 2000's that found an old answering machine at a thrift store filled with messages from the previous owner. This group of guys took the audio from the answering machines messages and turned them into an album full of songs based on the messages! The machine was a Sanyo TAS1000, so they named their band after the machine – TAS1000.
The music, while just a little repetitive, is still pretty catchy and the fact that it's made with some unwitting lady's answering machine tape makes me love them. The ex-owner of the machine apparently wasn't as amused as I am, though – she sued the band for using her messages without her permission, according to this message posted by the TAS Facebook page.
Here are a couple of their songs…
You can listen to the entire album, called A Message For Marta, on YouTube by clicking here or you can download their album in mp3 format from here for free.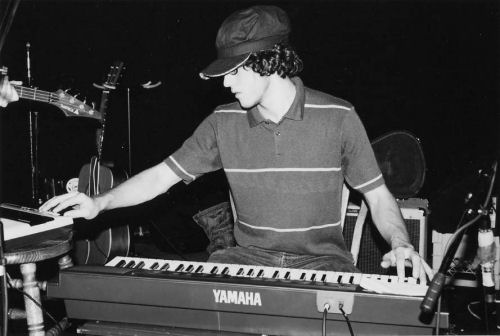 A member of the band plays the keyboard and the answering machine
The band's old website at TAS1000.com is gone, but you can still view it through archive.org where you'll find photos and a history of the band. And you can visit the band's Facebook at facebook.com/TAS1000. Here is some information about them that I found on archive.org.
"It was at a Value Village in Kelowna that an answering machine, the Sanyo Telephone Answering System 1000, was purchased in August 2001. When the previous owners' tape was discovered inside, the musical potential of the messages became immediately clear.
A band was quickly formed to explore the possibilities, and, assuming the name of the machine, the TAS 1000 collective set about writing appropriate original music to augment each message. Every song features an oblivious 'vocalist,' and they all have a story to tell.
Apart from a collection of ballads sung by unsuspecting strangers, A Message For Marta is also an unauthorized musical biography of the machine's previous owners, the intended recipients of the messages: evidently, a woman named Marta and her family. Marta's own voice may be heard on the opening track of the album in the form of her outgoing greeting
TAS 1000 played its debut show on October 31, 2002, at Ms. T's Cabaret in Vancouver, which was followed by a CD release party hosted by local English as a Second Language students."