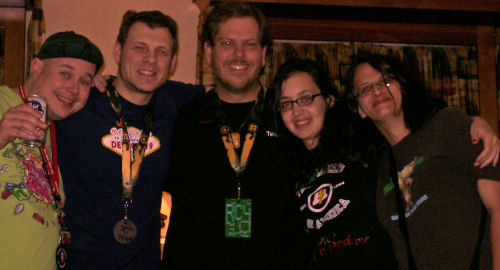 As always, Defcon was freakin' awesome, but this year it was an entirely different level of awesome because there were a bunch of PLA people there to hang out with, such as Rob The Hyena, Sudo, Staci (or whatever the I'm supposed to call her this week), Laugh Track Matt, Jenn, Afreak, Jammie, Blue Boy, murd0c, and of course, Scanner Mel!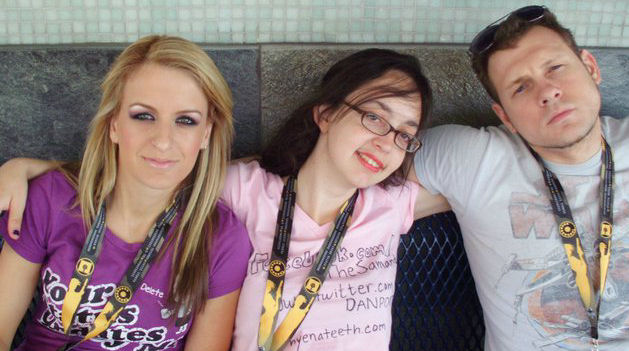 Staci wasn't going to be able to make it, but at the last minute a bunch of people chipped in some cash and made sure she got to sit on a Greyhound bus for more than 24 hours straight! It was the best hax ever, putting her through that kind of hell. A ton of thanks goes to the people who donated, including Tombstone, Spacebison, Trevor Burdick, Rob The Hyena, Richard H., djskott, pfelon, Blaise, and most importantly, ME! Also, tons of thanks to io, who suckered some guy into giving Staci a free Defcon badge to get in. Some people donated with expectations of having Staci write URLs on a t-shirt that she would wear all weekend. She went through at least a couple of shirts throughout the weekend and I'm going to attempt to list the URLs below. If your URL has been forgotten, leave a note in the comments or email to get it added. Thanks a ton for allowing me to meet the infamous Staci Stack!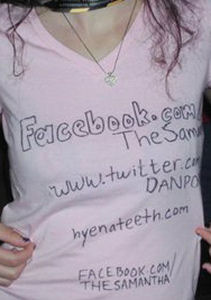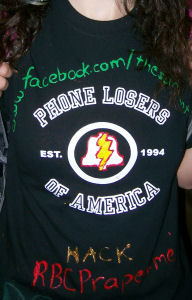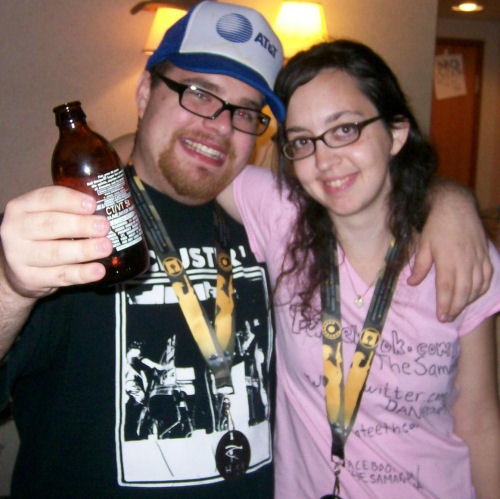 Both The Phone Show and The Fun Show on Cacti Radio did Defcon wrapup shows this week, so you should check those out when the new shows go up on the websites and podcast feeds. You also might want to keep an eye on our Hotel Pranks page for a few new pranks to be added, since we spent about an hour a day listening to the hotel staff on a scanner and then called the rooms involved to mess with them. Apparently Defcon attendees are just as full of legal threats as normal people are!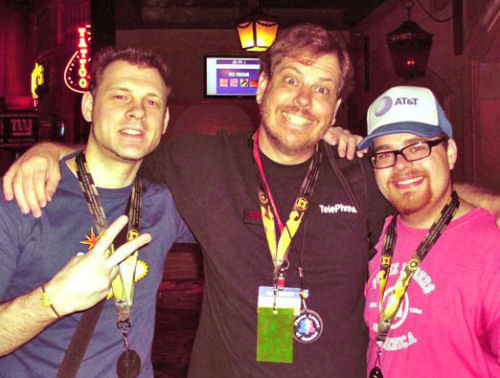 The book vendor was nice enough to carry the PLA book on their table, but I'm too much of a jerk to remember who they are or what their URL is. Thanks, book vendor people, for helping to spread the gospel of the PLA to Defcon attendees!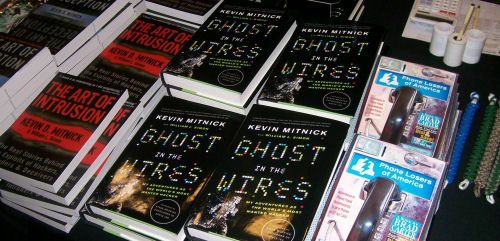 Cell phone service was a huge failure for my cell phone while I was inside the Rio, so I missed a lot of texts and tweets, making me miss out on meeting a few people. I couldn't even say hi to RijilV because our texts were delayed by about 15 minutes and we ended up giving up on each other. If I missed you, that sucks. NEXT time we'll all have to work out a better system for daily PLA cactus worshiping at a specified time/place since the Rio seems to be one giant Faraday cage.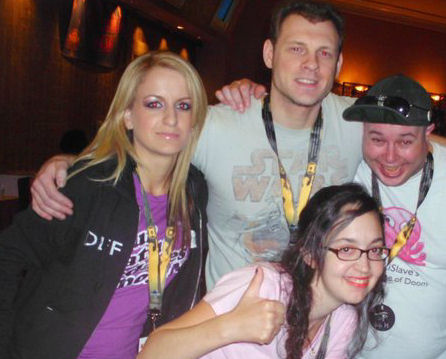 Thanks, everyone, for showing up and saying hi to me. And huge apologies to everyone that I neglected because I was so busy all weekend. If you weren't able to make it this year, start planning for next year! And just to make you feel like you were there, here are a bunch of photo albums from a few of us PLA folks.