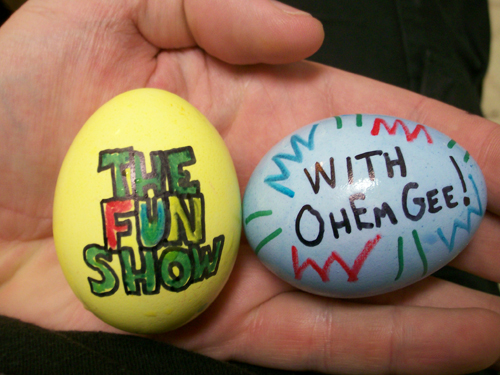 For the past few months, OhEmGee, aka a long-time PLA girl whose name we are never again allowed to utter, has been doing a live prank call show on Cacti Radio. The show airs each Wednesday night at 9pm PST. Listeners meet in our tinychat room and on efnet's #phonelosers. OhEmGee guarantees that each show will have at least 25% more fun than the last. You can listen to old episodes by visiting cactiradio.com/funshow/ or you can subscribe to the RSS/Podcast feed if you're lazy. Or forget about her dumb website and feed and just listen to a few of the episodes below:
the FUN show – 04/20/11 – Four Twenty! – I prank call some people that are selling items for $420 and accuse them of hiding their pot selling business. It doesn't work out well so some people "from the internet" call in and Aikison continues to spam the show with "420" in a computer voice. Lots of other stuff happens but I'm lazy so I guess you get the general idea. At about 50 minutes in, it gets hilarious when we call foreign taxi guy. He gives Americans some great advice at the end of our show. Included is an aftershow! After the show, there's a talk with Rappy and his friend Shinobe. I end up getting my heart broken, but the wedding is still on. Phractal, my virtual boyfriend, calls in while I am talking to Rappy and shit gets REAL…
04/06/2011 – Movie Theatre Confessions – We call up movie theatres and confess to terrible things! It's a spin off of the gas station confessions, but equally as funny. Guests include RBCP (who broadcasted the show for me and edited it,) Rob the Hyena, LT Matt, and a failing Corwin.
The FUN show – 03/30/11 – Rob the Hyena coshosts. This is the one that we prepped a prank call and then…well you'll see what happens. I didn't know we were so mainstream! Then we call best buy but I hate it so I cut most of that out. RBCP interviews me about my biege boxing date. There's an aftershow but I'm not posting it yet.
The FUN show – 03/23/11 – Cat Lady! – Phractal calls in talks about actual phreaking stuff but he gets bored with it so we call weather girl. Aikison discusses his dealings with a 14 year old relentless girl who called him over and over. We check on a guy whose voicemail was hacked last week. The outgoing message is still there! Bowling alley prank call failed but it was a good idea…maybe we'll do it again another time. Snarky's at it again. Skype problems! Leet fails to be leet. Other stuff. Aikison confesses to a guy's voicemail. Snarky. TheN uses a phone with a curly cord. Fix nipples. You can't hack iphones. Chris Chan's voicemail. Lady has a cat problem but the show ends. You can't hear the outro music and I don't care. She calls back after the show ends and is going to the cop shop right now!
MyPhoneRobot, a prank call website
Podcast: Play in new window | Download
Subscribe: Google Podcasts | Email | RSS