Big Beef Bueno Stuff and PLA Book Stuff and R0xy Stuff

At the request of Chris Ellerback, after a 3 year hiatus, the Big Beef Bueno podcast is back! You may remember BBB coming out around the same time that PLA Radio originally did, but then I lost interest in it…UNTIL NOW! The latest episode celebrates the awesomeness that is Rappy McRapperson by interviewing him and playing a few of his songs. If you're a regular listener of The Phone Show, you'll know that Rappy is something I force on my listeners often. Click here to listen to the Rappy interview, where you'll hear an unreleased song from him (it ends with the word Cactus) and he tells us how it was partially inspired by the PLA.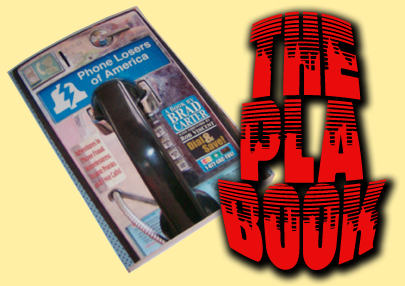 Sitting Now PLA book review! Rumor has it that this website will also feature an interview with RBCP soon.
HNN mentions the PLA book! And they also mention WeakNet Labs blue and red box programs for the Android.
Unshelved reviews the PLA book! One of my favorite web comics reviewed the PLA book a couple weeks ago. If you've never read the Unshelved web comic, then go do that.
Why haven't you reviewed the PLA book yet? Get on Amazon or B&N right now and review the hell out of the PLA book. Jerk.
After months of false promises, r0xy is finally going to start up her own show on Cacti Radio! It'll be a weekly show, though details are still sketchy right now. If you've been listening to Cacti Radio this past weekend, then you've probably heard her broadcasting for most of it, playing worse music than I do and prank calls mostly by her and Tombstone. Keep an eye on Cacti Radio for details. And speaking of r0xy – HAPPY BIRTHDAY, R0XY! I'm too cheap to give r0xy gifts, so instead I'll just post RTF's gift to her: