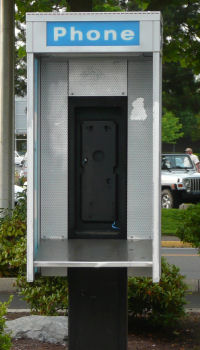 I've always been a little obsessed with pay phones. I think it may have started in grade school when my best friend John suggested that it might be hilarious to call up a pay phone and talk to the people who answered. (Great ideas like this were common for us.) Soon after we ended up with the number to a phone booth several blocks away at the Wilshire Shoping Center in East Alton, Illinois. I don't remember exactly what we said to the people who answered this phone, I only remember that it caused John and I both to start up hand-written lists of area pay phone numbers. We each kept our own lists, organized in our own ways, but often shared numbers with each other. This went on for years and the lists just kept growing. I started keeping a small notebook on me every time I went out with my parents so that I could write down new numbers. When they would ask if I wanted to go to the store with them, my answer usually revolved around whether or not I had the pay phone numbers at that particular store. I had no idea that I would still be compiling lists of pay phone numbers 20 years later.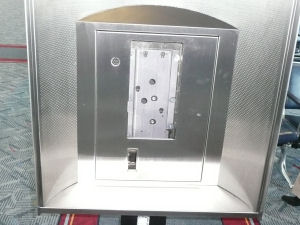 One evening I was at Ziggy's skating rink in Alton and was thrilled to find a pay phone there. But when I picked up the phone there was no number written on it! This was a problem I'd never encountered before and wasn't sure what to do about it. So I dialed zero and asked the operator if she could tell me what the pay phone number was. She told me that she had no way of knowing this information. I called another operator and asked her the same question. This one told me that she wasn't allowed to tell me. When the third operator answered, I said something like, "You're the stupidest operator ever! You're so dumb! I bet you're so dumb that you don't even know what number I'm calling from and you can't do a thing about me calling you names!" This operator immediately proved me wrong by saying, "Oh yes I do know your number! It's 465-…" I'm not sure what I said to her after that but I know I hung up quickly since I was always afraid that an operator could dispatch the police to a pay phone within seconds of pushing a magic button. You don't mess with operators!
In Junior High my pay phone calling became a little more high-tech when I began using my TRS-80's speech card to call the pay phones in front of 7-Eleven where a group of teenagers hung out every night. The teenagers seemed to believe everything that my computer's voice said to them, including the part about me being a top secret military computer system sitting on a desk in the White House. My computer would talk with these kids at the pay phone for hours sometimes. I'd written a program which displayed a menu of common phrases for my computer to say to them ("Malfunction…need input!") and I'd hardwired a phone into the speech card so that they wouldn't hear me typing.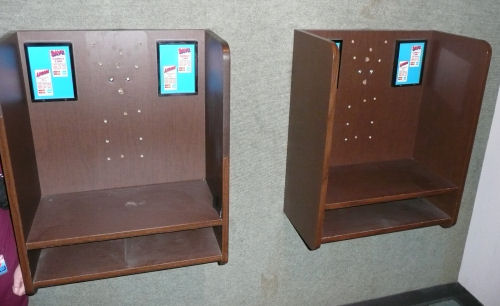 When I discovered ringback codes, I couldn't resist running up to every pay phone I encountered, dialing the ringback number (in my area it was 571 and the last 4 digits of the pay phone number) and hanging up the phone just so the phone would ring until somebody came along and picked it up. The ringback numbers were free calls from pay phones, so a quarter was never needed. These were the days when you could easily find 2 or 3 pay phones right next to each other, so it was fun to make them all ring at the same time. My parents never understood my fascination with pay phones, but they rarely stopped me from dialing the ringback numbers or adding a new pay phone number to my list as long as I could be quick about it. In high school, the ringback numbers came in handy when a friend and I would cover the school's pay phone handset with food coloring before making the phone ring. The student or teacher curious enough to pick it up would end up with food coloring all over their face and hand.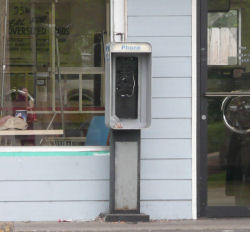 In my later teen years, I passed the long hours of my movie theater job by calling up the pay phones in the parking lot and at the shopping center across the street whenever someone came near them. The other employees and I would tease the people at the pay phones by describing their clothing to them or claiming that we were in the car that just passed them. Keep in mind, nobody had car phones back then. It was at this same movie theater that I drove my assistant manager nuts by setting up my computer at home to autodial the pay phone nonstop all evening while I was working. The ringing of the pay phone, just outside of his office, caused him to rant about the stupidity of the mysterious caller all night as I kept collapsing on the floor in laugher. (This event, and others mentioned in this article can be read in more detail at www.notla.com/pranks/.)
And then there's red boxing. It was at that same movie theater that I heard my first red box tone. A lady pulled her car up to a pay phone and I managed to call it just as she picked it up. I told her I was the Illinois Bell operator and she still owed a quarter from the call she was just on. She argued that she hadn't even used the phone yet, but finally agreed to put in a quarter just to shut me up. As I watched her drop a quarter into the phone, a *beepbeepbeepbeepbeep* pierced my ear. At the time I had no idea that you could record that tone and play it back for free calls. It wasn't until a year or two later that I finally read about red boxing on a BBS, and soon after that I tried it myself and couldn't believe that it actually worked.
Red boxing calls from pay phones took my obsession to a whole new level. When I left home and went to Texas, I spent hours each evening sitting in my car at a pay phone, making free calls to my old friends in Illinois. And making calls to random phone numbers all over the country. This was in the early 1990's and long distance wasn't very cheap yet, so suddenly being able to call any number in the world I wanted for free was pretty amazing stuff. I would spend half the night at a pay phone, calling phone company news lines, test lines, random people, random businesses and friends. This phase of my pay phone obsession lasted for years and followed me all over the country. Having people come up to me and ask, "Are you going to be much longer? I need to use the phone!" was a regular thing for me.
Distorted red box tones would summon a real operator, who would sometimes offer to send me a check in the mail for the amount of money that she thought I had deposited. This eventually lead to me lying to operators to get them to mail me checks for long distance calls and it didn't take too long to realize that I could do this with overseas calls too. In the early to mid 1990's, I was receiving a regular stream of checks for up to $15.00 each, courtesy of AT&T. Some weeks I was making more than $100 at it. And when AT&T caught on, I would use address forwarding cards to have them send my checks to random addresses around the country. To thank friends for favors, I would have AT&T mail them $30 or so.
I could go on for hours about pay phones, about the huge collection of pay phone inserts I once had, about the calls I've forwarded to pay phones, the pay phone lines I've tapped, the massive amount of calling cards and credit cards I've ordered and used from pay phones, the calling card numbers I've written down as people read them to the operator at a pay phone, the pay phone that I set on fire, the 3-way calls I made by tying two pay phone lines together, the pay phone grafitti I used to draw in public restrooms.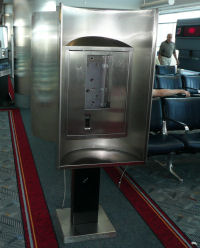 The reason I'm writing about all this, though, is because I'm a little saddend by the sudden disappearance of a lot of public phones. They seem to be disappearing this year at a rate faster than I've ever seen before. I started noticing this last year, and I recently decided to bike around my city and take pictures of every pay phone in Albany, Oregon before they all disappeared. So far I've ended up with 42 photos and within just a month and 3 of the pay phones I've photographed have already disappeared. And I'm not saying that I want pay phones to stick around. They're stupid and pointless, especially when even the homeless are carrying around cell phones. Pay phones need to go. I haven't been in a situation where I really needed to use a pay phone in about 10 years now. It's just sad that the era of pay phones is just about over after I've spent more than 20 years at their side.
This summer I took a vacation to my home town of East Alton, Illinois and was a little bummed to see which pay phones there had disappeared. Like the one at Walgreens that I loved to prank whenever I would get stuck at the stoplight on Wood River Avenue. Evilcal and I once convinced a lady who answered there that we were radio DJs and got her to dig through the trash can next to the phone for a prize that wasn't there. It was one of my favorite pay phones to prank in Jr. High, and in high school I'd stop at it every morning just to quickly dial the ringback number before continuing to school. I'll miss you, 254-7111. The first pay phone number we added to our list, the one at the Wilshire shopping center, is gone now too. And only one of the two 7-Eleven pay phones that I used to call with my computer is still there, and it's a COCOT now. Dozens of pay phones had disappeared from the area since my last visit. Empty pay phone stands are everywhere.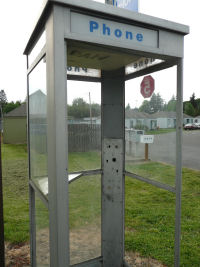 The most disappointing had to be the pay phone in the parking lot of "The Store" next to Vanpreter Park. This was the pay phone that I made my first red box tape recording from (the recording that I used to make free calls with for the next couple years) and the first pay phone that I'd successfully red boxed a call on. It was nearly midnight in 1991, I'd just gotten off work and I'd really been wanting to try out red boxing for nearly a week. Everyone on the BBS networks assured me that red boxing was a 70's – 80's thing and that it wouldn't work anymore, but I just had to try it. There were two pay phones across the parking lot from each other and I had a handful of quarters. I dialed one pay phone from the other, skateboarded across the parking lot to turn on the tape recorder (running would have been faster, but using a skateboard made my midnight experiment across the street from the police station all the more exciting), and then skated back to deposit about $5.00 in coins.
Needless to say, it worked. My first red boxed call was to the only long distance number I could think of at the time – the movie theater I worked at in St. Louis' Union Station. I couldn't believe it when it worked, so I started dialing random numbers a little further away in the only far away area code I knew of, 803 in South Carolina. Every call I tried to make worked and I ended up rousting several random people out of bed with my efforts. But yeah, that pay phone is gone now too.
Cell phones are great, but they'll just never be as cool as pay phones once were. Sure, your cell phone can text message and surf the web and check your email and store your entire photo album and play your music, but pay phones were just cooler somehow. Soon all of the pay phones are going to be gone and that'll be the end of it. No more crazy DJ prank calls to pay phones, no more food coloring and Nutella pranks, no more red boxing, no more puppet shows based on pay phone rates, and no more completely anonymous phone calls from pay phones. I wonder how long it'll be before they've all disappeared.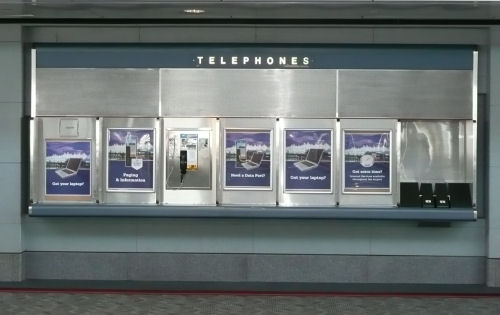 Look at that – once a giant bank of pay phones in a busy airport and now it's reduced to just one…