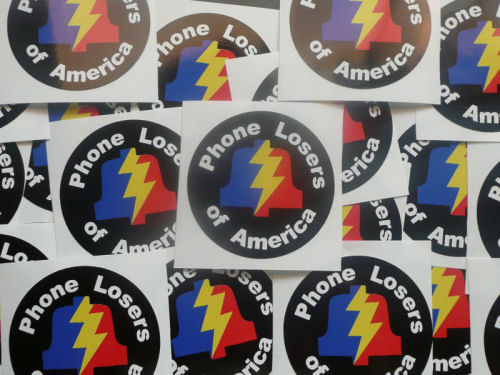 After a year of selling those horrid, old orange stickers and finally dumping them all off on a table at Defcon, the PLA is at it again with their latest money-making get-rich-quick scheme. This time we've got some shiny new full-color vinyl stickers for you. These vinyl stickers are 3.25 inches in diameter, giving them a circumference of 10.210176124166829 inches! For a mere $5.00 you'll get 10 of these stickers, which will look great on all of your personal belongings.
2019 Update: Stickers are now sold here.
And speaking of stickers, the United Phone Losers have been selling out with a few stickers of their own. Take a look at www.phonelosers.net to see linear's CACTUS IS NOT A CRIME sticker, which is available in the UPL Store.