PLA's Original Motion Picture Soundtrack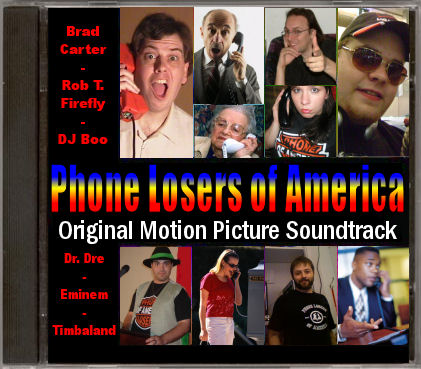 Over the past few years, a lot of music has been created in the name of the PLA. So today, I created this page to showcase these songs. My hope is that listening to this music will inspire even more people to write songs about the PLA, so our "Original Motion Picture Soundtrack" will be more than just 7 tracks long. Because really, who's going to purchase our CD for $17.99 plus tax when there's only 7 tracks on it??
Track 01: Guilty Deter This is the first official song ever recorded for the PLA, if you don't include our old 90's dance mixes. RBCP wrote the lyrics to this song in January 2005 and included them in UPL issue #29. Shortly after the issue of UPL was released, Rob T. Firefly released this version of the song.

The song is about a 17-year-old character named Deter who wants to be a phone phreak but his conscience keeps interfering with his ideas. (You might remember a guy named Deter from a few of the old PLA issues.) This song is a parody of Guilty Conscience by Eminem and Dr. Dre.

Listen to more from Rob T. Firefly at his home page, his music page and his Myspace.

---

Track02: What's The Difference? This song was included in PLA Radio Episode #3, which was released on February 25th, 2006. The episode revolved around all the fun you could have with Deaf Relay Operators. The lyrics were written by RBCP and the song was performed by a deaf relay operator. It's a parody of the song called What's The Difference by Dr. Dre.

---

Track 03: RBCP on PLA Radio Trevelyn, also known as DJ Boo, wrote this song for PLA Radio where it's occasionally used as an introduction for the show. Trevelyn has written a lot of phone-related songs and has been featured on Hacker Public Radio. Visit Trevelyn's page of music and his Myspace.

---

Track 04: linear This song was written by both linear and RBCP, each writing most of their own parts of the song. It was written in the early 2000's, then finished up by RBCP and published in UPL issue #29 in January 2005. RBCP recorded the song in July 2006, playing both the part of linear and RBCP. It was featured in PLA Radio Episode #10 on July 22nd, 2006.

---

Track 05: PLA Radio Cactus Intro This song is usually played at the beginning of episodes of PLA Radio and was originally played in the May 14th, 2006 episode. The original song is called Squeeze 1st Jay-Z. The various people saying "Cactus" are professional voice artists that RBCP tricked into sending sample work to him.

---

Track 06: Mildred Monday This song was written by episode #16 of PLA Radio on March 15th, 2008. It features some classic old-school PLA characters, such as Dino Allsman, Jim Bayless and Mildred Monday. It's a parody of a 1980's song called Manic Monday by The Bangles.

---

Track 07: Blackhat Life This song isn't exactly a PLA song, but a mention of PLA Radio is included in it so I'm listing it here. It's written by Trevelyn and was first played on episode #16 of PLA Radio. Visit Trevelyn's page of phone music and his Myspace.

---
There are a few more, such as the 2 dance mixes that were done in the 1990's by Calimar and some other guy. I'll have to add those to our new song page soon too. Maybe there's some songs that I'm forgetting about too. You can remind me of anything I've forgotten by contacting me.
And if you'd like your own PLA song to appear on the song page, follow these simple steps…
Write a song.

Make sure this song is awesome.

Send the song to RBCP.
In return, you'll feel really cool for being on our song page. If the song goes beyond awesome, RBCP will probably send you a PLA stickers or some buttons or maybe even a PLA t-shirt. Your song might even be featured on PLA Radio, which is listened to by thousands of people. And having a song on our song page will constantly expose new people to your music. And that's what really matters, right?