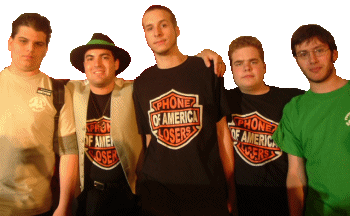 A few years ago, in 2004, Big-E, RTF, Judas Iscariot, Murd0c and I-baLL all gave a presentation at the Hackers On Planet Earth convention for PLA's 10th anniversary. Thanks to Legend813, the full video of this event is now streaming on megavideo.com. You can click here to watch it, or see it below…
…
Thanks, Legend!
10/27/2007 EDIT: Megavideo keeps being a bunch of cocks and taking down Legend's videos. He's giving up on putting the HOPE video up since he's done it twice now. So instead of watching that, take a look at Legend's collection of videos and pictures.
Legend's YouTube page More than 200 videos here. Watch Legend do all kinds of wacky things, such as shop at 7-Eleven!
Legend's Megavideo page 234 videos, none of them being the HOPE PLA video.