PLA Radio Episode #14 – Wacky Morning DJ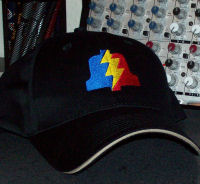 Isn't that a nice hat up there, sitting in front of the PLA Radio mixer? Buy it!
This PLA Radio episode contains an update on the old social enginnering episode, a bit about sendmeavoicemail.com and then some sound clips from a wacky morning DJ that I prank called a long time ago. This podcast is 22 minutes long and is about 19.8 megs.
Listen to the show