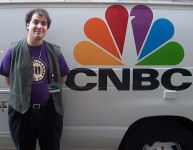 Our New York correspondent, Rob T. Firefly, standing in front of a CNBC truck during h2k2. Rob has nothing to do with this particular event. I just thought the picture was fitting.
Last Thursday, RBCP made a very brief appearance on the CNBC show "On the Money" in a live interview about Wal-Mart. Anchor Dylan Ratigan grilled RBCP with questions about crossing the line between pranks and corporate terrorism. Discussed were the prank phone calls on our Wal-Mart page and the Fred Meyer intercom prank.
The funny thing about it all was that the segment was specifically about Wal-Mart, yet neither of the mentioned pranks took place in a Wal-Mart. You can read about RBCP's account of the incident in this journal entry and this journal entry. Our Wal-Mart page was also mentioned in a Boston Herald article last week. You can read that article and other PLA media appearances on our press page. Eventually the CNBC video should appear on that page.