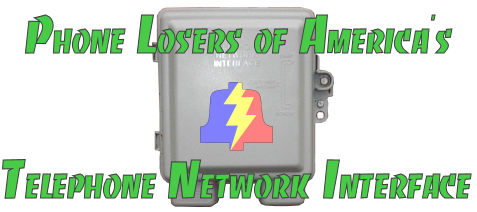 PLA's Telephone Network Interface is a phone system that can be accessed by dialing 206-424-8422 or 505-608-6123. Attached to this system are eight different answering machines that callers can attempt to hack into by brute forcing their way into the remote access features of the machines. If you missed out on the fun of hacking into answering machines in the 80's and 90's, this is your chance to see what it was like.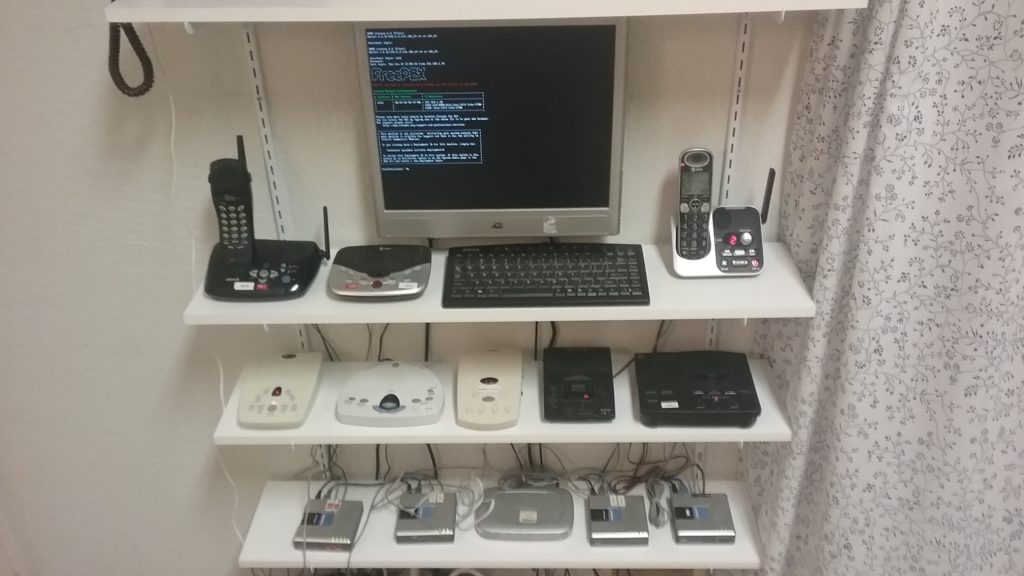 Above is a picture of what the TNI is looking like these days. The whole thing is set up in my kitchen, mainly because I need all these machines plugged into a different power outlet than the rest of the house. There are currently eight answering machines and I plan to add a couple more once I get one more phone router to hook them to. The grey boxes on the bottom shelf are PAP-2T phone routers and the thing in the middle is a regular internet switch. The monitor and keyboard are hooked up to the Asterisk system.
Here are some of the machines currently hooked up to the system. I need to update this, though, because the RCA is no longer a part of it and a bunch haven't been added.
If you click on the model numbers above, you'll be taken to a Google search for the answering machine model numbers where you can sometimes find an online manual for the machine which will tell you how the remote access features work and sometimes will even give you the default code for the machine. Remember, though, that half the fun is actually figuring all this stuff out for yourself, so give that a try before cheating and looking up the manual.
Once you've accessed a machine, you are welcome to do any crazy things you want to them. Delete all the messages, try to lock other people out, and whatever else you can think of. Have fun! New machines will be added. I'm planning to eventually hook about 10 machines up to the system at a time and I will rotate new machines into the mix occasionally.
OTHER TNI THINGS
The phone system is running Free PBX on Asterisk and is available 24 hours a day. The 505 number is a paid number that costs around $5/month through voip.ms and it allows 2 simultaneous outside phone connections. I'm hoping to find a SIP service that allows more simultaneous connections, but doesn't cost too much more, so if you can recommend any good providers, either contact RBCP or leave a comment on this page.
The phones are connected via Linksys PAP2T phone adapters. Each adapter supports 2 separate phone connections, so I will need 3 more of them to reach my 10 answering machines goal. Lots of thanks goes to TheN from afterthetone.org for recommending these adapters because they're a lot cheaper than the PCI cards I'd planned to purchase before.
If you'd like to donate old answering machines to this project, you can mail them to Phone Losers of America, P.O. Box 465, Albany, OR 97321. Keep in mind that the cost of mailing an answering machine will probably be $5 to $10, or maybe even more if you use a comically oversized box to send it in. Use a real return address if you'd like a PLA sticker mailed to you. Make sure your machine has remote access capabilities and a power supply. This project could also benefit from a 4 or 5 port ethernet switch since I'm completely out of ports to plug these PAP2T adapters into, so if you have one of those lying around…
CHOOSE YOUR OWN ADVENTURE
PLA's TNI project has several other plans for this Asterisk machine. One is a "choose your own adventure" style of story telling, which will use a telephone keypad to make your choices in the story. Has this been done anywhere before? Let me know if it has and maybe I can steal ideas from them. I know story telling probably wont appeal much to the type of people who will be calling into this machine, but it'll be an easy project to set up so I'm definitely going to put a couple of them together soon.
A slightly more ambitious goal is a public "voice BBS" which will allow callers to listen to a series of voice messages and then append their own message to it for others to hear. The Defcon Voice Bridge from the 1990's had a system like this and it was a lot of fun. 2600's phone system also had one and probably still does if it still exists. I'm fairly new to Asterisk and will have to learn how to write modules for FreePBX, which I'm certain I'll be able to do but it may take awhile for me to have some time to start on that project. I'd hoped that a module like this already existed, but I haven't been able to find anything similar to it yet. If anyone knows of a system like this already available for Asterisk, please let me know.
I'm open to ideas for this thing. Except for a voice bridge since that would eat up all my incoming phone lines. If you have any ideas or comments about this project, you can contact RBCP or leave comments below. You can also discuss this project on the PLA forums.