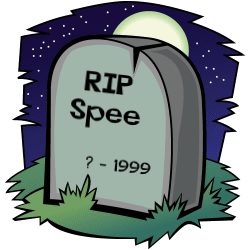 A True Person (Rip Sean O'Brien)

by pbxphreak (chris@lod.com)

On Friday August 13th, 1999 a tragic car accident happened. My friend spee passed away. He was a true friend to everyone I talked with on the computer. Although I did not know him as well as I would like to have he still was an important person to me. I talked to him for about 2 and a half – 3 years on irc, conferences, and was going to meet him at Defcon or coming to his town and visit, but I never got the chance to. I wish I did. Everyone I know always says postivie things about him. I will remember him as a team partner when I use to hand in the occastional article for the zine system failure. It meant a lot to me that I was on the same team as spee That meant a lot to me. To me, I will always remember him saying one thing over and over on one conference I was on with him late at night then continuing into the next morning where I talked to him on it at school on the payphone. He would repeatedly say "pbxphreak I want a pony" . That made me laugh, and ever since I found out about what happen to Sean on friday, Thats all that is in my head, me remembering his voice over and over, and yes it brings a tear to my eye. I wont be able to chat with him, but I will still will be able to rememeber the memories of sharing those long conversations on conferences on the phone and those funny talks on irc. I will always remember teasing Sean on irc by calling him the Spanish Princess :) That made me laugh. Well we all know that Sean has gone to a good resting place upstairs, and he will be watching over all of us. Thank you spee for your company over the past years. I will miss you dearly.
Your Friend
Chris McCoy (pbxphreak)
(this text taken from here. Chris, if you'd prefer I don't use this, please contact me. – RBCP
---
COMMENTS
---

11/11/05 – ioana from bucarest: rip
---
11/11/05 – MAXIM from R.I.P.: 1970- 2003
---
06/29/05 – chris mccoy from google: hope you are doing well upstairs.
---
return to the phone losers memorial