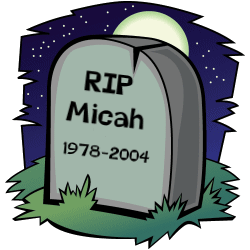 Micah Jason McCrary
1978-2004

taken from the Pensacola News Journal
Micah Jason McCrary, 25, passed away Sunday, June 6, 2004.
Micah is a native of Beauford County, SC. and has resided in the Pensacola area for the past six months, moving here from Gray, TN. He graduated from Tri- Cities Christian Academy in Blountville, TN and worked at East Tennessee State University as a Computer Analyst before moving to Pensacola, where he worked for Open MRI.
Micah was a member of the Pine Mountain Valley Seventh Day Adventist Church in Pine Mountain Valley, GA.
Micah is preceded in death by his paternal grandparents Clive and Maxie McCrary; maternal grandfather Gene McCray.
Survivors include his mother Sharon Stubbs (David) of IA; his father Danny McCrary (Connie "Tad") of TN; two brothers, Phillip "P.J." Hall and L. Cpl. Dustin Hall USMC; one sister Sabrina Hall Carty; three step sisters and three step brothers; his grandmother Elane McCray of GA; one uncle Danny McCray (Tonda); and his aunt Susan Wemmer (Andy); and cousins Lisa Wade (Rhett), Donna Hanie (Steve), Kristina McCray, Danny "Skip" McCray, Jr., and numerous extended cousins, three neices and two nephews.
A visitation will be held at Harper-Morris Memorial Chapel, Tuesday, June 8, 2004 from 6-8pm.
A visitation will also be held from 10-12 noon Thursday June 10, 2004 at Cox Funeral Home, in Hamilton, GA followed by the funeral service at 2:00pm Thursday, June 10, 2004, at the Pine Mountain Valley Seventh Day Adventist Church in Hamilton, GA.
Harper – Morris Memorial Chapel is in charge of arrangements.
The sudden and tragic loss of Micah Jason McCrary, has left us all empty. We now have to lay to rest a generous kind and amazing soul. He was greatly loved and will be enormously missed.
---
account of the funeral from a friend
---
COMMENTS
---

08/19/05 – Chris from San Antonio: For the past three years, Micah was kind enough to host VagueComics.com. Although I never had the opportunity to get to know him personally, he was always there to help me out when I had questions and even turned me on to php. The fact that the server lasted until recently is a testament to his skills as a server admin. Unfortunately I hadn't found out about his untimely demised until this morning in an email from a friend. God bless him. :)
---
06/01/05 – psyke from Romania: RIP.
---
03/24/05 – RaD Man (ACiD) from San Jose, CA: Micah was a good friend — for a number of years, he hosted our primary mail server, DNS/SOA and mirrored our massive archives — we'd paypal each other cash in times of need — may he rest in peace
---
03/23/05 – Bikr from Angst: Just found out today. It's like you think someone like Micah will always be there, you turn your head and they are gone when you realize you haven't talked to them in over a year. He was the reason for alot of the things I've done, I do, and I will do. Micah this is a shock, and I'm truly upset about this. May you rest in peace, and rest well knowing that you changed your life, and it wasn't a stupid mistake that took you out of a world, but a stupid uncureable disease. Love you Micah –Bik
---
02/12/05 – PayphoneEd from 757: @->–>—
---
02/05/05 – someguy from detroit: I will pour a 40 on the curb for him, it was such a sad loss.
---
02/03/05 – Rob from NY: Wow, I had no idea. He was a great webhost, and a fascinating guy. He shall be missed.
---
01/28/05 – coldwar23 from dirtysouth 706: I actually knew Micah from when I was a youngsta. I haven't seen him since we were 10 at camp. We were the tallest kids in camp then. I am truly sorry to the family as he was a neat kid….always. I didn't know how close I was to a person I hadn't seen in a decade. I hope the best for his family and friends as they get through this time.
---
01/25/05 – kn0x from Westchester: wow, what a shame, to die at such a young age. im shure he'll be redboxing all of god's payphones. rest in peace.
---
01/24/05 – KINK from P-town: I give him my respect…
---
01/24/05 – alwyz from nyc: sad loss… i believe the bbs and phreak community , of which i've been with since 1984, will not forget those who were always there to keep it alive.. i never knew micah personally… but we loved the same things… rest in peace..
---
01/21/05 – Blue60 from Canada: I would just to think Micah will live on with PLA
---
01/21/05 – rbcp from Alton: From the "account of the funeral from a friend" page: Micah died of sleep apnea… he had been diagnosed with this problem some time ago and was supposed to sleep with an oxygen mask. When his relatives found him in the morning, it was clear he had just drifted off to sleep – "rested his eyes" – while doing other things and basically suffocated in his sleep. His death was sudden and unexpected, but apparently painless.
---
01/21/05 – Chuck from the bathroom: Hoe did Micah die?
---
01/21/05 – Jeremy from Wilsonville, Oregon: Micah was a good guy. What a sad deal
---
return to the phone losers memorial