Here's a picture from murd0c – he forced students at his school to hold up a PLA sign so he could take pictures of them. You can click here to see several dozen more similar pictures.
SHOW YOUR LOVE FOR THE PLA!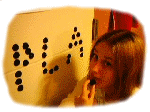 Everyone loves the PLA. Our newest contest will not only help you prove that you love the PLA, but it will also allow you show off your love to everyone while winning fabulous prizes! Here's your challenge – using any means possible, send us proof that you love the PLA more than anyone else. You can create some PLA Oreo artwork like Sarah601 did, or get people to hold up signs proclaiming their love of the PLA. Anything you can think of will work. Just no Photoshops, it has to be real! You can send sound files of your love, pictures or video.
This contest will officially start on January 12th, 2004 and end on April 30th, 2004. You can send entries directly to us or you can submit them yourself in this thread on Cal's Forums. If you want to mail an entry, the address is Phone Losers of America, P.O. Box 1182, Alton, IL, 62002.
FIRST PRIZE: To be announced…
SECOND PRIZE: To be announced…
THIRD PRIZE: To be announced…
For past contests, I've always given away PLA t-shirts, CDs and other miscellanous PLA merchandise. This time I'd like to try and come up with something a little different. I'll still give away the PLA stuff, but I'd like to add other, more original items to the prizes. It's unlikely that it'll be anything valuable, but I'll come up with something! If you want to send us something to add to the prize packages, feel free to email us.
Contest Entries
And The Winner Is…
First Place: #26 – Robot Antron and his friend love the PLA – by 3rd Worm – 59 votes.
Second Place: #28 – Boobs & Cactus by RandyC – 53 votes.
Third Place: #1 – Girl holding a PLA sign – Murd0c's original entry which started the contest – 19 votes.
You can view the voting results and their comments here. Thanks to everyone who took the time to submit entries. The winners will each enjoy a shiney new PLA Motorcycle Shirt since I'm too lazy to think of any cool prizes. And for those who didn't win – remember for the next contest that boobs and robots are a sure thing!