Judgement Day Here's a picture of Jim Bayless that RBCP's friend drew before PLA even existed.
DRAW A PLA CARTOON!
During the past decade, the PLA have introduced you to all kinds of fun characters. People like Dino Allsman, Chris Tomkinson, Mildred Money, Big Larry,Curtis Lee Jones, Jim Bayless, OCI Operators, Bell operators, Andy Babin, 7-Eleven employees, Sommy, I could go on and on for pages.
Here's your challenge – pick any section of our website as a theme and draw a cartoon for it. It can be any character from any section of the site, it can be based off of any story or incident that you can find on the site, any prank phone call or video we've done, it can be absolutely anything as long as it's some way related to something on this web site. In fact, you could just draw something that's related in some way to phreaking and it'll end up being accepted. We're not too picky. You can email your submission to RBCP Or you can can submit it directly to Cal's forums.
Best of all, even if you don't win your entry stands a good chance of becoming a permanent part of this web site. We'll most likely use the pictures created from the entries to enhance parts of this site.
FIRST PRIZE: A PLA t-shirt, a PLA Media CD, a few assorted PLA stickers!
SECOND PRIZE: A PLA Media CD, a few assorted stickers!
THIRD PRIZE: A bottle cap for a FREE 20oz Mountain Dew or Pepsi!
More prizes might be added to each place. If you want to send us something to add to the prize packages, feel free to email us. This contest started on June 10th, 2002 and ended on August 31st, 2002. Entries were judged by the users of Cal's forums.
Contest Entries
And The Winner Is…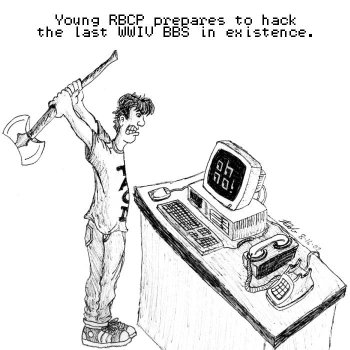 First Place: Entry 25 by Rob T. Firefly. Young RBCP prepares to hack the last WWIV BBS in existence.

Second Place: Entry 9 by aftershocks. Cactus won't help me!

Third Place: Entry 5 by Sabrebutt. Mike & PHIL – PHIL gets a new beige box.