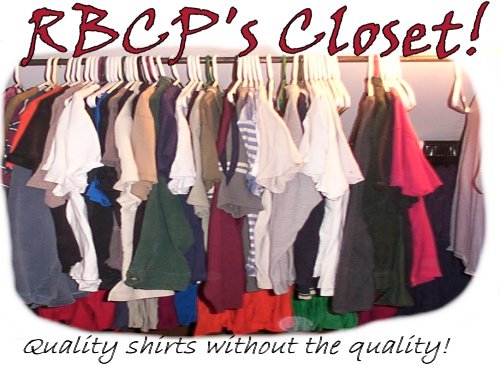 Welcome to the blowout sale in RBCP's room! RBCP's Closet is too full and we're liquidating old model shirts to make room for new inventory! You can now impress your friends and family by wearing RBCP's old and worn shirts. Brag to your parents about how you're getting thriftstore quality at higher prices! Get all the chicks by telling them that those aren't YOUR sweat stains, but RBCP's! Here's the current inventory, the page will be updated as often as possible as things are added and removed. Shipping is $3.50 no matter how many shirts you buy. So buy all of them to save money!
Mind Kontrol Records This is a black shirt with a white and purple logo reading "Mind Kontrol Records." It was cool looking until the screen printing began to peel off. The size is XL. The price is $2.00.
picture #1
picture #2
Here are the shirts that I've sold….
Defcon 9 – Pool Ball Design It's a tshirt for Defcon 9. Which looks like pool balls. How clever. The size is XL. SOLD OUT – DO NOT ORDER THIS ONE!
picture #1
picture #2
picture #3
HoHoCon 1994 This is a shirt that I bought at HoHoCon in 1994. The front is a cool Taco Bell looking logo with the words HoHoCon under it. The back pictures O.J. Simpson's mug shot along with a cartoon Bronco and the words "Make a Run for the Border!" which was Taco Bell's slogan back then. I purchased it with money made from a convenience store I looted. The size is XL. SOLD OUT – DO NOT ORDER THIS ONE!
picture #1
picture #2
picture #3
Defcon 4 This would be an okay shirt if it wasn't so damned yellow on the front. The back looks pretty good though. The size is XL. SOLD OUT – DO NOT ORDER THIS ONE!
picture #1
picture #2
picture #3
Project Gamma The front of this shirt reads www.projectgamma.com – Silly hacker, root is for administrators! The back reads GammaGear and the URL again. The size is XL. SOLD OUT – DO NOT ORDER THIS ONE!
picture #1
picture #2
picture #3
APC I don't know what company APC is, but apparently they have legendary reliability. The size is XL. SOLD OUT – DO NOT ORDER THIS ONE!
picture #1
picture #2
Inspector Gadget This was a promotional shirt from when Inspector Gadget came to theaters. The front has a gadget logo with the words GO GO GADGET. The back reads Inspector Gadget with the same logo. The size is L which is the reason I never wore it – it didn't fit me. SOLD OUT – DO NOT ORDER THIS ONE!
picture #1
picture #2
picture #3
Janes Addiction This shirt is from the Janes Addiction concert I went to in 1991. The front is some kind of meaningful-looking picture about censorship. The back has the 1st ammendment on it. There is some white paint spots on the right sleve but they're not very noticable. The size is ONE SIZE FITS ALL. Whatever that means. I doubt it would fit a 700 pound woman. If I were a 700 pound woman I would sue the bastards. It looks like an XL to me. SOLD OUT – DO NOT ORDER THIS ONE!
picture #1
picture #2
Microshit This shirt is a spoof of the popular "Where do you want to go today?" ads by Microsoft. The shirt reads "Microshit" in large letters on the front, then has the line "Where do you want to go today?" underneath that. The problem with this shirt is that there's some kind of yellow stain on the back shoulder. It looks like yellow paint, but I think I may have splattered bleach on it. The front of the shirt looks fine, it's just the bleach stain that's the problem. Maybe you could paint it white to hide it. This shirt will get you all kinds of funny comments from the general public when you're wearing it. It was one of my favorite shirts to wear until the stains appeared on it. The size is XL. SOLD OUT – DO NOT ORDER THIS ONE!
picture #1
picture #2
I Am A Hacker The front of this shirt states in large print "I am a hacker" and the back reads "At least that's what the FBI told me. www.gwonkbell.net" along with a Bell logo. I never wore this shirt very much so it's in great shape. None of the screen print has peeled. The size is XL. SOLD OUT – DO NOT ORDER THIS ONE!
picture #1
picture #2
picture #3
KRAD 105.5 EvilCal gave me this shirt as a gift a few years ago and now I'm cashing in on his kindness. This is a great shirt because it says KRAD on the front. However it's only a LARGE which doesn't fit my fat ass too good. Me and EvilCal used to harass Crazy Corey, the morning DJ at KRAD, all the time when we lived in Corpus Christi. SOLD OUT – DO NOT ORDER THIS ONE!
picture #1
Che Bello Here's a shirt from a job I had in 1995 at a coffee shop called Che Bello. I served the band members of Type O Negative in this shirt! As if anyone remembers who the hell they are. The size is XL. SOLD OUT – DO NOT ORDER THIS ONE!
picture #1
picture #2
Defcon 5 This shirt is a Calvin Kline spoof. It reads Defcon 5 on the front. The back reads "Defcon Five World Domination" along with a bunch of cities which I suppose is some kind of joke that I don't get. The screen printing on the front is cracking, the back seems fine. The size is XL. SOLD OUT – DO NOT ORDER THIS ONE!
picture #1
picture #2
picture #3
Pr3fix This is a grey shirt with the slogan "Prefix – The Ill Communication." It was made by the website pr3fix.com which once had a plan to make a bunch of h/p related shirts. The printing is on the front, the back is blank. The size is XL. The price is $3.00. SOLD OUT – DO NOT ORDER THIS ONE!
picture #1
picture #2
Hacker Cronie This was once a very cool shirt, probably one of my favorites. The front reads "Hacker Cronie and Phreak, EST. 31337" with a cracked Bell logo. The design is brilliant, the screen printing sucked. I got it at Defcon 2000 and within a few weeks, much of the print had rubbed off. If you click on the 3rd picture, you can see me wearing it the day I bought it. It's still kind of a cool shirt but it's hard to read it unless you stare at it for a minute. The size is XL. The price is $2.00. SOLD OUT – DO NOT ORDER THIS ONE!
picture #1
picture #2
picture #3
Indiana Bell This is a real lineman's work shirt from the early 90's. It says Indiana Bell – An Ameritech Company on the pocket. A friend of mine managed to get his hands on it after Indiana Bell changed their name to Ameritech. The size is XL. The price is $8.00. SOLD OUT – DO NOT ORDER THIS ONE!
picture #1
picture #2
7 Eleven Smock This is the very smock that I was wearing the night I looted 7-Eleven and left town with all the money in the safe. A great collectors item! Goes great with the item below. SOLD OUT – DO NOT ORDER THIS ONE!
picture #1
picture #2
7 Eleven Apron This would be the apron that I was wearing under the smock the night I robbed 7-Eleven. This one even comes with my name tag! SOLD OUT – DO NOT ORDER THIS ONE!
picture #1
picture #2
MTV This shirt has these mysterious little dealies on the front of it. And then MTV Music Television on the back. The size is XL. The price is 25 cents. ITS SOLD OUT – JAMMIE BOUGHT IT CAUSE SHE LOVES MTV SO MUCH!
picture #1
picture #2
picture #3
This is my Costume! This is a shirt I bought when I worked at some movie theater in Indiana. They wanted the employees to wear a costume on holloween so I protested by wearing this. I think the size is probably XL even though the tag was ripped off. SOLD OUT – DO NOT ORDER THIS ONE!
picture #1
Legion of Doom Internet World Tour This is one of the original LOD t-shirts designed by Erik Bloodaxe of the LOD. He noticed that RBCP was making fun of his shirt salesmanship on the website so he sent Colleen Card 3 shirts. The front reads Legion of Doom Internet World Tour and the back reads Hacking For Jesus '91 with a bunch of web sites and IP addresses. The size is XL and it's in good condition since it wasn't worn very often. SOLD OUT – DO NOT ORDER THIS ONE!
picture #1
picture #2
picture #3
LOD vs. MOD Here's another shirt designed by world famous T-shirt salesman Erik Bloodaxe of LOD. The front says "Hacker War – LOD vs. MOD" and shows a U.S. map depicting the war. The back has a timeline of events surrounding the war. This size is XL. SOLD OUT – DO NOT ORDER THIS ONE!
picture #1
picture #2
picture #3
Computer Hacker This shirt's front shows a guy hacking a computer with an axe. The back says some rubbish about SummerCon 1995 in Atlanta, Georgia. Erik Bloodaxe even quotes himself on this shirt. The size is XL. SOLD OUT – DO NOT ORDER THIS ONE!
picture #1
picture #2
picture #3
My Documents, Your Documents This shirt is one that the general public doesn't seem to get. They always need it explained to them so it's annoying to wear it. The front has color Windows-looking folders, one reading My Documents and the other reading Your Documents. On one sleeve it has the URL www.ninjas.org. The size is XL. SOLD OUT – DO NOT ORDER THIS ONE!
picture #1
picture #2
picture #3
Texas Lottery Here's a shirt that I had to wear while working in a Diamond Shamrock in Galveston, Texas around 1992 or so. The front has the money thingie on it, the back rants about the Texas Lottery. The size is XXL. SOLD OUT – DO NOT ORDER THIS ONE!
picture #1
picture #2