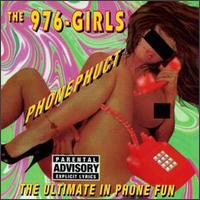 The 976-GIRLS released one album on July 11th, 1994 entitiled Phonephuct. It was released under the label D.I.L.L.I.G.A.F. Records, which is the same label that brought us The Ball Busters and Telephone Head.
The pranksters consist of 4 girls making various phone calls which are all related to sex in some way. It sounds pretty low-brow and immature, but some of the calls are actually really funny. The 976-GIRLS have also been spotted in music stores under the name of The Call Girls and the label Laugh-a-lot Records, but the track listing and calls are identical.
Track listing:
1 Phonephuct, Pt. 1
2 Are You Hiring
3 Clap On
4 Footloose
5 The Trim
6 Survey Says
7 Sexual Healing
8 Phonephuct, Pt. 2
9 Mr. Johnson
10 Great Pets
11 Monkey Business
12 Girlfriend
13 Speech Therapy
14 Lez B. Friends
15 Help Me (Locksmith)
PLA Radio interviewed Erika, one of the 976-GIRLS, in February 2009, which you can hear by listening to PLA Radio Episode #22. Erika is interested in getting in touch with some of her old 976-GIRL alumni. If you know how to contact any of the other 976-GIRLS or the people from D.I.L.L.I.G.A.F. Records people, contact us.