What Am I Doing Wrong I Hate My Life Oh GOd Please Help Me
Hey everyone. Brad here. I've been a web admin for 25 years now, 15 of those years using WordPress to manage this site, and suddenly I can't seem to do the most basic thing – make a podcast feed show up when I post a show here. There's been a weird permissions error (I think) that's been giving me issues for months now, ever since I ditched the old s2member system and attempted to set up Memberpress instead. Previously this was only affecting my ability to make a secret podcast feed for members on this site, so I've just been taking my time about making that happen.
But suddenly, even the main podcast feed seems all jacked up. Even when everything SEEMS to post okay, the embedded players aren't showing up, or if they do they're not playing anymore. Or if they do play, they work in Firefox, but not Chrome. Or the other way around. Or MS Edge. It all seems random. So I've been making posts repeatedly today, try to narrow down where the issue lies. And I think I've gotten nowhere.
Or maybe I got somewhere. It seemed like earlier, whenever I created a podcast post, it was trying to call it a "secret podcast" even though I didn't do anything to indicate that it was. So I cleared out all the shows from the secret Elite Cactus Squad feed and completely deleted it. Now all I have is the main website feed at https://phonelosers.com/feed/podcast/ and the two shows that I posted right before I started ranting here seem to be coming up and playing okay. So maybe it's all fixed. It's playing in Chrome on my PC, Chrome on my phone, Firefox on the PC, and Edge on the PC. But iTunes is giving me a play error. WTF THIS IS BULLSHIT. I was about to delete this post because it was finally working.
I'm going to leave stuff alone now because I want to see how Tune In and Stitcher handle it once their feeds update. I was having mixed results with those yesterday.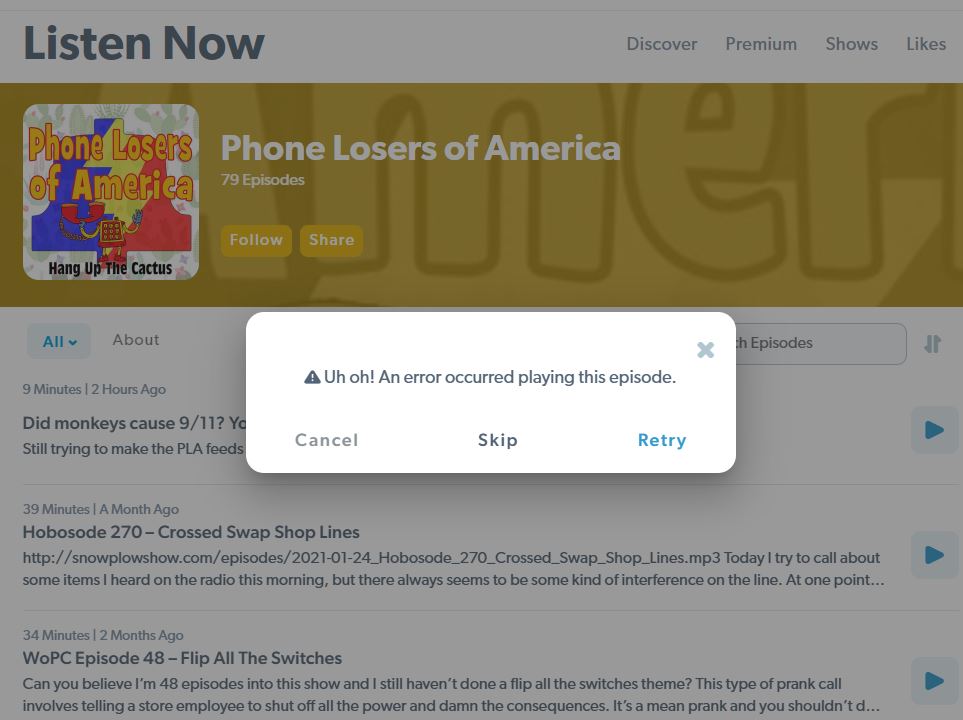 Does anyone have any ideas what the problem might be? I've even tried hosting the files on other websites since it seems to be an issue with access to the mp3 podcast file sometimes, but even when I did that the file sometimes wouldn't play in some browsers. I assumed the reason syndication used to work was because those files are ALWAYS on a different server. I was putting these new show files into /media/ but for this post and the previous two, I've switched to just dumping them in the root directory in case Memberpress is protecting something I don't know about.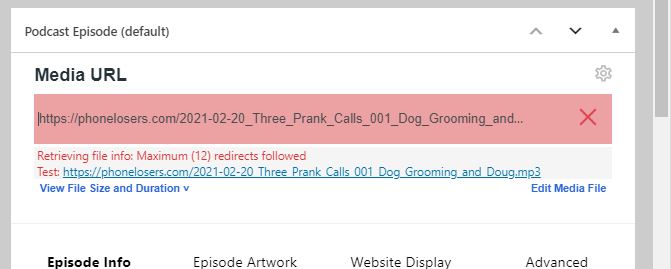 For awhile I thought it had something to do with the Powerpress error I kept getting when I try to verify files. This is the error I'm currently getting for the 3 posts I've just made. But digging through a bunch of posts on the Powerpress forums, I found out that this is just them being lazy about updating something. When I use an off-server file, it gives no errors and lights up green. But Powerpress are assuring people that this is just an oversight and your file will work even when you see this error. Apparently it wouldn't be happening if I hadn't set up a secure certificate on this site a couple years ago. I've tried verifying it as a http file instead of https but I still get the error.
I've picked through my .htaccess file looking for issues. There was a block of code from the old s2member stuff that I deleted. That didn't help. I erased a ton of stuff from the file that's been building up for the past 15 years. That didn't help. Some code was accidentally pasted into the wrong spot so I moved that. That didn't help. My .htaccess file is really small now, so that's nice. In fact, here's a screen capture of it, so you can see just how pretty it is now.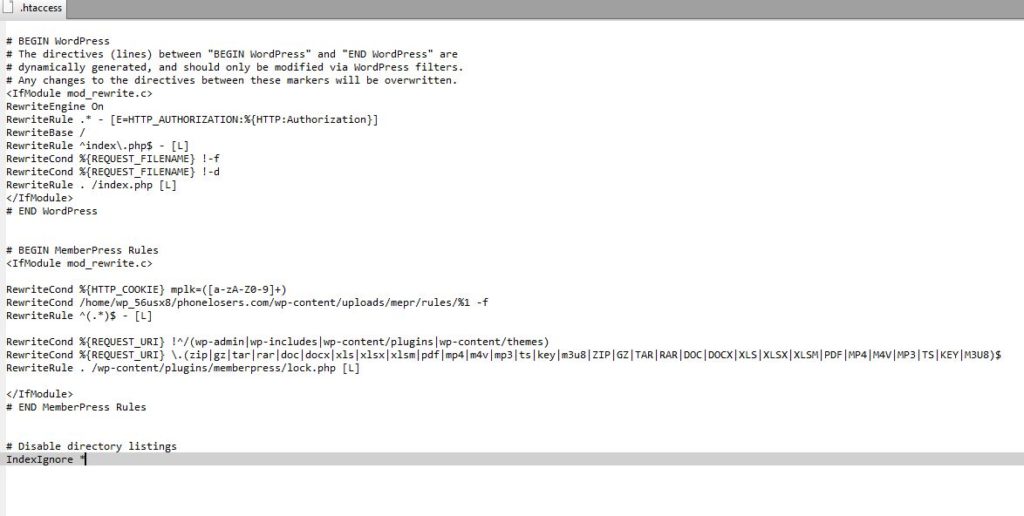 All that's left is some WordPress rewrite stuff, some Memberpress rewrite stuff, and the thing to tell it not to list the contents of directories. None of that conflicts with each other, does it? And in my Memberpress rules, the only rules I've set up is that only members can see the files in the Hobosode directory, and only members can see the posts tagged as Elite Cactus Squad. That's all reasonable, isn't it?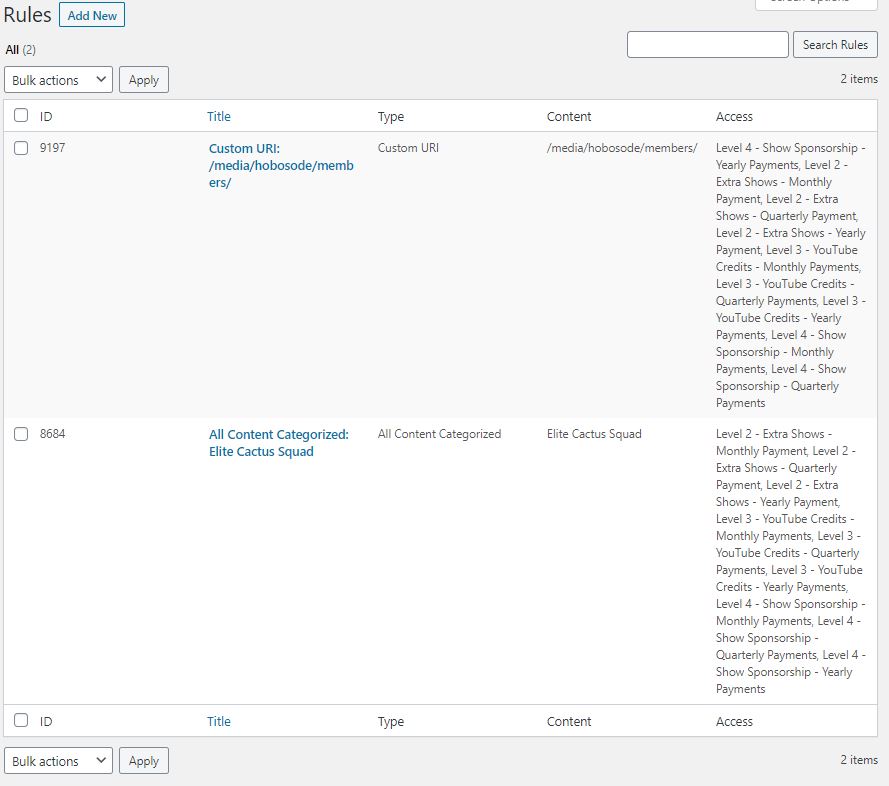 The first rule is the reason I moved the previous two mp3 files to the root directory. Before they were in /media/threeprankcalls/ which shouldn't matter one bit to the rules, but I'm just trying to eliminate all possibilities.
So I don't know what's left to try really. I just refreshed Stitcher and it still hasn't updated with the two shows I posted so I don't know if that worked yet. Hopefully it's completely fine now and iTunes is just a huge piece of shit. I think I'm done with this for today though. I will post an update here in a day or two, and hopefully it will be good news.
If you have any ideas for me to try, please suggest them in the comments or email me at brad@phonelosers.com. It's probably something incredibly simple that I haven't thought of yet.
Thanks for your patience everyone!
Brad