PLA's 2015 Halloween Pumpkin Contest
Every single year, PLA has a pumpkin carving contest, where listeners can send pictures of their pumpkin carving masterpieces to me. Wait, that's a lie. Actually it's about once every 4 or 5 years, when I can manage to remember to tell everyone to send me pumpkin pictures. In fact, I would have forgotten this year too, but Lea was nice enough to remind me. Thanks, Lea!
This year I had to decide between 5 entries, and it was a tough decision, but I've finally decided that Brandon is the winner, mostly because he carved GO AWAY PLA into his pumpkin and I'm pretty sure nobody else has done that yet.  He also carved a PLA logo into another pumpkin, but that one doesn't count.  Congrats, Brandon, on winning the prize of ONE FREE PLA STICKER!  YAYY!!  (Postage not included.)
Here is Zax's entry.  He thinks that just because he's the co-host on Laugh Track Matt's show, he can misspell my name.  But no.  DISQUALIFIED, ZAX, YOU HOBO.
 Zeek went for extreme laziness by scribbling on his pumpkin with a marker and then taking pictures of it with a 2001-era digital camera, probably hoping that the poor image quality would trick me into thinking that he carved "Sorry I dinged your car" into it.  I wasn't born yesterday, Zeek!
 Dyno's pumpkin is amazing and beautiful and it has a multi-colored light in it, which is why it looks like he created 3 pumpkins here when really he only did one.  But I'm kind of suspicious of this one.  It almost looks TOO perfect, as if he used a laser in an eggbot to create the perfect winning pumpkin.  I love your pumpkin a lot, Dyno, but it doesn't say GO AWAY PLA on it, so YOU LOSE!
Finally we have Nick Vivid's pumpkin, which is nice and looks very artistic next to that nice photo in the background, but look at the bottom segment of lightning and you'll see that he accidentally chopped off a big piece of it and tried to fool me by turning it into some weird meta Xzibit lightning bolt within a lightning bolt.  I won't be fooled so easily, Nick.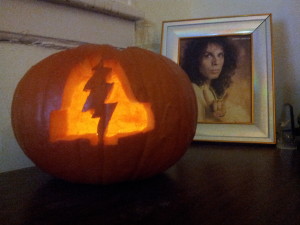 All 5 of you are awesome for wasting your time and your pumpkins on the PLA.  Even Zeek, I guess.  Thanks, you guys!