Carlito and RBCP Apologize Profusely For Car Dings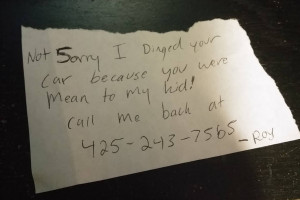 Lars H. is responsible for there only being a week left of car ding prank calls.  Thanks, Lars!  In this episode I'm joined by Carlito of Madhouse Live for some car ding victim tag teaming.
The intro song is called Ghost In The Wires by ReBeCePe
The background music is What City Please by Redbox and the Chilipeppers
Mistress Morgan CLAIMS I can use my phone's SD card without rooting my Android by going to this link or to this link.  I'm writing this here so I don't forget later.  Thanks, MM!
It's Going Down by Rappy McRapperson
I edited out a TON of quietly waiting for the really slow guy.  So he's even slower than he seems.
Buckets of Blood by Schaffer the Darklord
Support the PLA on Patreon, add PLA on Facebook, add Snow Plow Show on Facebook, add Prank Call Nation on Facebook, add Prank Call Nation on on Twitter, add Prank Call Nation on Mixlr, add PLA on Twitter, add PLA on Tumblr, add PLA on YouTube, add PLA Shows on YouTube, add RBCP on Instagram, add RBCP on Twitter, add RBCP on YouTube, add RBCP on Vine, leave a voice message for the show at 814-422-5309.