PLA Coins – The Currency of THE FUTURE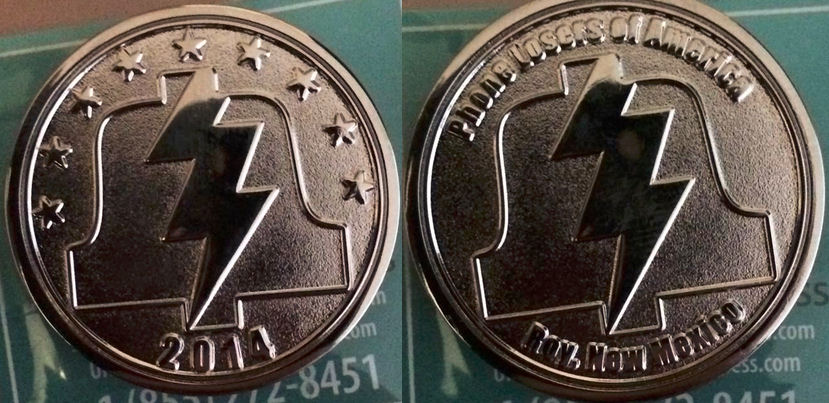 If you want to own the currency of THE FUTURE, now is your chance. These polished metal PLA coins measure 1.5 inches across, which is approximately double the width of a penny. They're about 1/8th of an inch thick, so if you throw them at a person's head, you can cause some serious damage. They're made of brass, in a polished silver color.
Both sides have the PLA logo on them. The front reads "Phone Losers of America" along the top and "Roy, New Mexico" along the bottom. The back side has stars along the top and "2014" on the bottom. Each coin is worth ten Ellerbuck$.
These will probably be limited edition coins. Only 200 have been made, and as you know from TV infomercials, they only go UP in value! Since I'm having these made at the very end of 2014, there probably won't be more of this particular design. Instead we'll be focusing on an even more awesome 2015 design, which all of you will help me with.
If you want to own one of these coins before they are all gone, here is the page to buy it from.  Currently there are only 50 coins left, so hurry the fuck up.  If you're a $5/month (or higher) member of Patreon, your coin is already on the way so don't buy one.