Stupid PLA Rubber Bracelets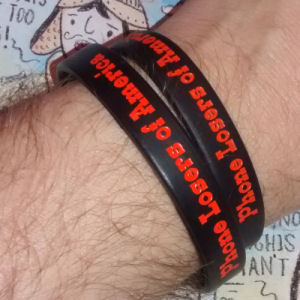 What's that?  You say you wish you could wear one of those douchey rubber bracelets around all the time, only instead of the bracelet saying "I <3 BOOBIES" it says "Phone Losers of America?"  Well are you in luck then!
This picture shows two sizes of bracelets – medium and large.  Which one you choose reflects what type of female genitalia you prefer.  My sexy hairy arms are not included with your purchase.
And if you're into wasting all your money on PLA crap, then you should look at PLA's store and the new t-shirts on PLA's spreadshirt.  The money you spend helps more crack and meth for me.  And more crack and meth means more shows and other fun PLA things.  So support PLA today!