PLA's New Album – Sorry I Dinged Your Car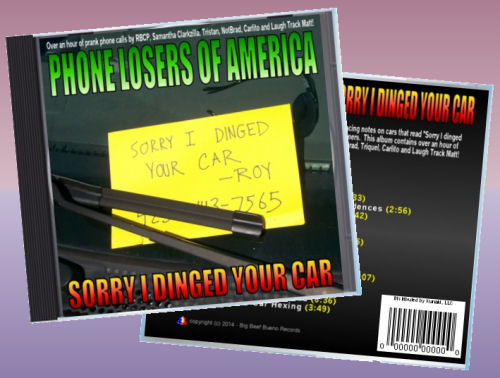 So remember way back in 2012 when PLA once again completely re-invented prank calls by asking listeners to put notes on cars that read, "Sorry I dinged your car!" with my phone number on it? And remember all the hilarity that ensued whenever the car owners would call me, pretending that they were cops or attempting insurance fraud by acting like there really was something wrong with their car? Remember when that guy yelled at Carlito for kicking his Audi or the time Laugh Track Matt sucker punched Samantha in the face?
Now you can relive the glory days of car ding prank calls by listening to this brand new album of old prank calls! Sorry I Dinged Your Car contains over an hour the very best car ding calls. Completely edited and remastered in digital stereo, these 17 tracks are guaranteed to make you happy that you don't take your car or your life as seriously as the people in these calls do. This album contains calls by Samantha Clarkzilla, Tristan Brunsdon, NotBrad, Triquel, Carlito, Laugh Track Matt, but mostly RBCP.
How much would you expect to pay for a gem like this? $25? $100? $600? Make sure your heart medication is nearby, because we are giving this album away absolutely FREE. That's right, it's FREE! Right now, you can download the entire album for nothing at all by visiting phonelosers.bandcamp.com.
What's that? You say you like stupid archaic technology like compact discs? You say you like filling up your home with useless plastic crap? You're a hipster that walks around with a Sony Discman, listening to the greatest hits of the 1940's? Well then this deal just keeps getting better and better because you can buy a physical copy of this amazing new album for five bucks. No, you are not hallucinating, you can actually get this album on completely outdated technology from the 1990's for just $5.00. If you're in the United States.
If you're in the U.S., PayPal $5.00 to rbcp@phonelosers.org. If you're in Canada, make it $10.00. And if you're anywhere else on the planet, better make it $15.00 total, because those international shipping rates are insane. (If it's considerably less money than $15.00, I will refund some of it and change the price on this page.) This special offer is only good until May 31st, 2014, so hurry the fuck up. After that I'll probably make these CDs $45 or something.