Buttons for sale at Target!
I was strolling through Target a week or so ago with Spessa and we happened to notice that they were selling buttons on an endcap, right next to all the Hallmark cards. The buttons were called Attitudes and had various sayings on them, such as "Wingman" and "Single" and "Rockstar." I just [i]knew[/i] that all the hip teenagers today must be wearing these buttons.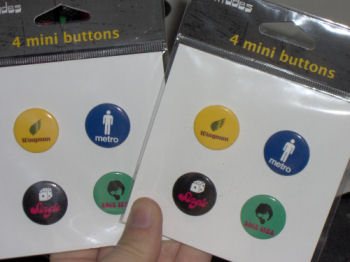 I also noticed that these were 1″ buttons, which just happens to be a size that I'm able to produce at home with my Tecre Model 100 Button Machine. I picked up a couple packs and took them home, planning to replace the buttons inside with more racy sayings and images on them and then return them for a refund. With the help of Mr. & Mrs. Spessa, we came up with the following buttons.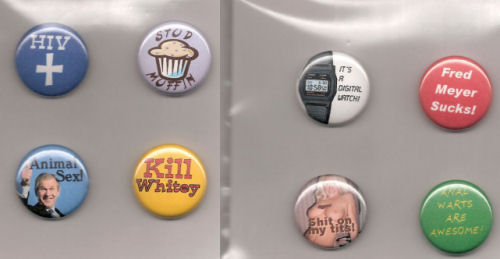 In case you're too lazy to enlarge the image above, the buttons say HIV+, Stud Muffin, Animal Sex (endorsed by George W. Bush), Kill Whitey, It's a Digital Watch!, Fred Meyer Sucks, Shit on my Tits (endorsed by a naked girl with shit on her tits) and Anal Warts are Awesome.
We decided against the idea of returning them to the service desk since that would cause the buttons to go through the hands of at least a couple of employees, giving them the chance to be noticed before they went back on the shelves. Instead I just sucked up the $1.99 that I paid for each of them and snuck them back onto the shelf myself. We snapped a few pictures and then went home.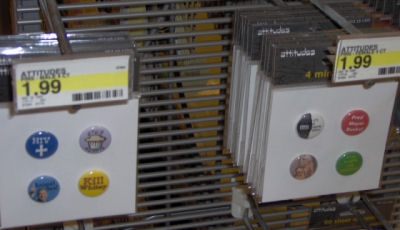 We checked back a couple times the next day and the buttons were still there. I was really hoping that one of them would be gone and one would still be there, meaning that a customer had purchased one. Two days later we checked once again and both packs of buttons were gone. Either a customer had purchased both of them or they had been discovered by an employee. We called Target and talked to a manager about the buttons but they didn't seem to know anything about them. So maybe, just maybe…somebody is walking around town wearing these buttons.