PLA Radio Episode #8 – Orange County Blockbuster Videos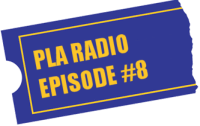 A listener emails a question about social engineering Blockbuster Videos, claiming that it's now nearly impossible. I spend a couple evenings calling every Blockbuster Video in Orange County to prove him wrong. This show is a collection of some of the more informative and entertaining of those calls, plus some voicemails, promos and the best cactus mix you've ever heard. This podcast is 29 minutes long and is about 27.2 megs.
The piano music played throughout this episode is the theme from The O.C., also known as California by Phantom Planet. The Cactus Mix background track is by Jay-Z and is called Squeeze 1st. The song on the end is California Love by Tupac and Dr. Dre.
Bonus Outtake! There were a ton of calls made to the various Blockbusters around Orange County but I couldn't play them all or the show would have been really long and boring. One of the more amusing clips was my girlfriend Jammie attempting to social engineer a Blockbuster out of their password. It was her first attempt ever at social engineering anything and you get to hear her whine a bunch and shake and get cold sweats as I give her a pep talk. Click here to listen to it.