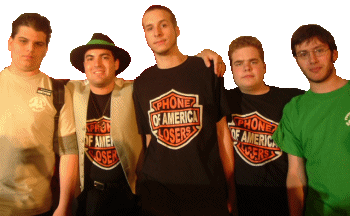 Big-E, RTF, Judas Iscariot, Murd0c and I-baLL

"It happened, it ruled and we came out victorious." are the words murd0c used to describe the outcome of PLA's 10th anniversary panel at this year's HOPE convention in New York City. Several hundred people gathered to watch the PLA's performance on Friday night which is an incredibly good turnout, especially since they were up against the pirate radio panel.
PLA t-shirts were given away, PLA's history was discussed, the videos and sound clips were played and afterwards a small riot started as people tried to get their hands on the PLA Media CDs. To top it all off, Angela Gunn wrote an article about Hope in USA Today and called the PLA "a crew funnier than anything yet seen on the likes of Crank Yankers."
Phonelosers.org would like to thank everyone involved with the PLA Panel. It started out as just a little idea in the forums but it turned out to be a really awesome event. RTF said, "Just think what we could do next time around if we put in more than a few emails and 15 minutes' worth of planning into it." Hopefully we'll get to see an even bigger and better sequel to PLA's Hope panel in a couple of years!
RTF's Hope photos
Judas's Hope photos
Big-E's Hope photos
Various discussions about the panel