PLA Radio | Forums | Archive | Studio | Subscribe | Listen | Promos | Contact Us

When I'm recording episodes of PLA Radio, I refer to my office as my Studio. Just to sound professional. Here are pictures of the studio. Let's start with my mixer and phone…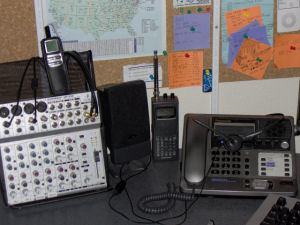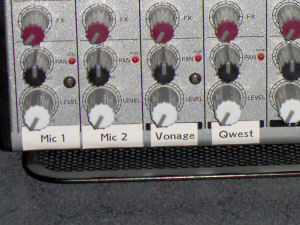 I use a Eurorack UB1202 12 channel mixer which is strapped to a metal stand (the kind of stand you're suppose to set papers on). The first two inputs are for microphones, though I only ever use just the one microphone. Inputs 3 and 4 are my two phone lines. The first line
is my internet line and the 2nd is my land line. When making phone calls where I want the high quality sound on my own voice, I generally run the microphones on the right channel so that I can easily bring up the volume of the person I'm calling. The phone lines are patched into the mixer with in-line recorders, purchased from Radio Shack. The phone is a Panasonic 2-line phone and a Plantronics headset.
My computer is a 2.53 GHz Pentium system with 512 megs of RAM and a 19″ monitor. For storage it has 2 internal drives – 30 gigs and 130 gigs. Then an external 160 gig USB drive.
For audio I have a Creative Audigy card which includes the drive bay inputs and controls which you can see in the picture. I rarely use anything but Cool Edit Pro for all of my audio recording and editing.
My primary microphone is an Optimus unidirectional dynamic on a cheap desktop stand.
For mobile podcasting, I use an Olympus DS2 digital recorder (it's the little device sitting on top of the mixer) along with various telephone recording devices and a cheap "tie clip" microphone.